Our Shih Tzu Puppies for Sale Are Guaranteed to Steal Your Heart!
November 10, 2017
Shih Tzu are a long beloved dog breed and it shows!
Here at Furry Babies, we love our Shih Tzu puppies! With that round, teddy-bear face and expressive button eyes, it's hard not to love this sweet little breed. But before just taking home any Shih Tzu puppies for sale, read along with our breed blog! You can learn all sorts of interesting facts about the Shih Tzu!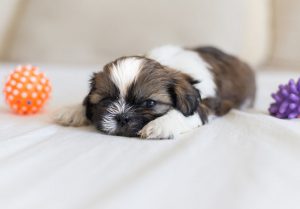 Shih Tzus have a lot of personality for one tiny body!
American teacher and composer, James Mumsford, perhaps described this breed best, saying "Nobody knows how the ancient eunuchs managed to mix together: a dash of lion, several teaspoons of rabbit, a couple of ounces of domestic cat, one part court jester, a dash of ballerina, a pinch of old man, a bit of beggar, a tablespoon of monkey, one part baby seal, a dash of teddy bear, and, for the rest, dogs of Tibetan and Chinese origin." The subject of Mumsford's somewhat interestingly exact description is, you guessed it, the Shih Tzu! It all boils down to the fact that the Shih Tzu isn't just any old lap dog, they have personality and spunk!
But what about their other characteristics?
Shih Tzus are undoubtedly beautiful, but they are also friendly, lively, and devoted companions. The Shih Tzu personality is enormously appealing, and even the most grudging dog observers find it hard to resist this breed. The Shih Tzu simply doesn't allow anyone to ignore them. They were bred to be friendly companions and that's what they're good at! They love nothing more than to meet and greet friends and strangers alike. Count on a Shih Tzu to make friends wherever they go. Not only is this member of the Toy Group good-natured and friendly, they are highly adaptable, which is sometimes rare in small breed dogs. They are also very well suited to apartments in the city as to life on a country farm.
Can't get enough of this precious small breed? Look no further than one of our five convenient locations to find Shih Tzu puppies for sale! We promise lots of puppy kisses and cuddles!