National Take A Hike Day (Nov 17): 4 Ways to Celebrate With Your Pet In The Greater Chicago Area
November 10, 2020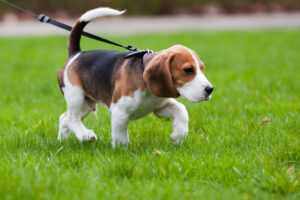 If you're looking for an excuse to spend some time outdoors and relax, get ready for November 17. This day marks National Take A Hike Day, the perfect opportunity to get outdoors. 
Hiking is an excellent form of physical exercise, but it's also great for your mental and relational health. And, if you need a little motivation to help you get moving, your dog is the perfect cheerleader. They benefit from hikes just as much as you do!
Keep reading to find the best ways to celebrate National Take A Hike Day with your dog in Chicago. 
1. Chicago Lakefront Trail
Chicago Lakefront Trail is one of the best options for beginners to participate in Take A Hike Day. 
This trial features 18 miles of paved pathways that follow the Lake Michigan shoreline. The amazing view of the lake will be all the motivation you need to continue your hike. 
The trail connects to many parks and beaches so you can stop along the way. Let your furry friend explore South Shore Beach, Grant Park, or Northerly Island. 
Just make sure to bring your leash as these trails can be crowded with other people and their pets. 
2. Lakewood Dog Park
If you're interested in hiking with pets, you should visit Lakewood Dog Park in Wauconda. 
This 66-acre park is completely fenced in to protect you and your pet. The park features a variety of landscapes to explore, such as open meadows or mowed trails. 
Dog parks are a great place for hikes because they give your pet more exercise than a traditional hike. Since the area is fenced in, your dog is allowed to run or play off-leash. You can take a break at the shade shelter while your dog plays until you're ready to continue your hike. 
3. Deer Grove Forest Preserve
Is your idea of hiking with pets in the Chicago area more nature-based? If so, Deer Grove Forest Preserve in Cook County is the perfect escape from the city. 
The preserve consists of 2,00 acres of natural habitat, ranging from upland forest to wetlands. There are 15.5 miles of paved and unpaved walking trails. 
To help you plan your trip, use this guide to see which trails allow dogs. Some trails allow dogs if they are leashed while others are off-leash areas. Make sure you abide by the preserve rules to respect others enjoying the trails. 
4. Valley Line Trail
Finishing the list of best hikes with pets in Chicago is Valley Line Trail. 
This is a smaller hike, totaling 1.1 miles of asphalt surface. This hike is hidden away in Sauganash and consists of two bridges to help you and your pet cross the roads safely. If you only have a small amount of time to enjoy the hike or your dog is reluctant to exercise, this path is perfect. 
There are future plans to extend this trail north through Lincolnway. Eventually, this trail will connect with Skokie Valley Trail. 
Celebrate National Take a Hike Day With a Furry Friend
No one wants to spend the holidays alone. On November 17, celebrate National Take A Hike Day with your furry friend at these Chicago trials and parks. 
Interested in adding a new dog to your household to celebrate all the holidays with? Furry Babies in Aurora, Lombard, Joliet, and Rockford, provides families with healthy purebred dogs in a large variety of breeds. 
Look at the available puppies now to find your new best friend.