5 Activities to Make Walks with Your Dog More Effective
June 3, 2020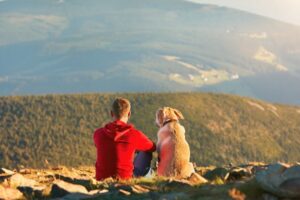 Dogs need mental stimulation. Just like humans, our furry babies can get restless and mischievous when they're bored. Walks are an essential part of your dog's physical and mental well-being. But sometimes the standard stroll around the neighborhood just isn't enough. 
Here are 5 ways that you can make your dog's walks more mentally stimulating. 
Try a new route.

Walking the same streets day in and day out can be boring for your dog and you. Head the opposite direction that you normally take for your morning walk or use an afternoon jaunt as an opportunity to explore a different neighborhood. The routine change will be exciting for Fido and help burn some energy. 
Go for a hike.

In this time of social distancing, hikes are a great way to get out and stay active. Plus, it provides sniffing opportunities for your dog. As pointed out in an

Outdoor Dog Adventures

blog, we often take for granted how much dogs depend on their sense of smell to learn about the world around them. The trees, foliage, and possible encounters with squirrels or other animals will provide the sensory stimulation that your dog craves.
Have a treasure hunt.

Another way to let your dog explore with his sense of smell is by tossing a treat on the ground when he isn't looking and giving him the chance to find it.

K9 of Mine

recommends using this game for timid dogs to teach them that treats and goodies can be found during walks and help build their confidence. 
Play Red Light, Green Light.

It's no secret that obedience training is a great way to engage dogs mentally. Use your "stop" and "walk" commands at various times during your walk. Every time your dog correctly performs the command, make sure to offer her plenty of praise and rewards. This not only keeps your dog thinking throughout the walk, but it also provides more opportunities for bonding and to refine training.
Practice heeling.

Teaching your dog to heel is invaluable for both you and your dog. According to Chad Culp at

Thriving Canine

, heel "

keeps the dog in a more relaxed, working state of mind."

This provides tremendous mental exercise for your pup and establishes your leadership position. Check out these

tips to teach your dog to heel

.
These are just a few suggestions to make walks with your best pal even more beneficial. Giving her opportunities to exercise her body and mind are key for your dog's health and happiness.