Our French Bulldog Puppies for Sale are Literally the Cutest Ever!
October 20, 2017
If you're looking for a French Bulldog puppies for sale, look no further than Furry Babies!
Bat-eared but oddly beautiful, the French Bulldog has a unique appeal. Aesthetically, other breeds might be more glamorous and showy, but beauty is in the eye of the beholder and what many behold in the French Bulldog are the attributes that make this breed one of the best companion dogs in the world today.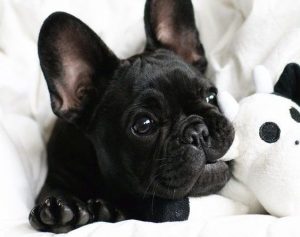 What to expect
The French Bulldog is small but substantial in build with a powerful muscular body. He sports a short easy-care coat to accompany his easygoing personality. The Frenchie likes to play, but he also enjoys spending his days relaxing on the sofa.
Training and nature
That love of play and relaxed attitude carry over into their training sessions. French Bulldogs are intelligent, and training them is easy as long as you make it seem like a game and keep it fun. They are free thinkers and are not an ideal breed for competing in obedience or agility although some have risen to the challenge. This freethinking approach can also lead to a stubborn nature, and if they decide to dig in their heels there is no budging them.
The Frenchie way of life
French Bulldogs are wonderful companion dogs with a gentle nature. If you work at home, the Frenchie is happy to lie at your feet all day or follow you from room to room. People who love them describe them as mischievous goof balls and can't imagine life without them. They are a constant presence, and they'll love you with all the strength in their small bodies, proving time and again that beauty is on the inside.
Furry Babies specializes in rare and unique breeds like the French Bulldog, check them out right here! If you're looking for French Bulldog puppies for sale in Chicago, come stop by our locations first!