Facts & Information about Weimaraner Puppies
May 25, 2019
You can't miss these dogs because of their striking blue eyes! We have Weimaraner puppies for sale at Furry Babies and we can't get enough of them because they're so stinkin' cute and unique. We know why they are a special breed and we're going to share with you right now. Keep reading to learn more.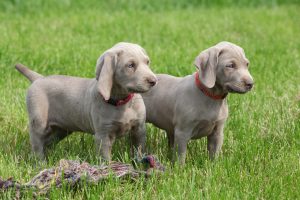 They originated in Germany.
Weimaraner puppies for sale first came about in Germany in the 19th century. They were bred to be an outstanding hunting dog, with qualities like incredible speed and endurance.
Their eyes change as they age.
You'll see that our Weimaraner puppies for sale have light blue eyes right now, but once they're home with you and start to get older, they'll change to either amber or a gray-blue color.
They have a great sense of smell.
These dogs are very close relatives to the Bloodhound, English Pointer, the Blue Great Dane, and German Short-Haired Pointer, so it's no surprise that they would have such powerful noses. Their sense of smell was most useful when they were employed as hunting dogs and were responsible for tracking large game like boar, wildcat, bear, and deer.
They have high energy levels.
We're not talking about the current state of our Weimaraner puppies for sale. We are talking about when they get older, too. These dogs require tons of exercise and need a lot of space to move around and burn off their energy. They have been reported to be dogs that need more activity than almost any other breed! Congratulations…you've got a new running buddy!
They are striped.
When our Weimaraner puppies for sale were first born they had stripes. Yep, you read that correctly. Oddly, at birth, they have dark grey tiger stripes. They fade completely after a few days.
We hope you enjoyed learning more about this unique breed. Feel free to contact us today with more questions about how you can own one. You can also check out our currently available puppies by clicking here furrybabiesinc.com!