Don't Give Up… We've Got Frenchie Pups!
April 21, 2019
Have you fallen in love with French Bulldogs?
Well, you're in luck, because we always have French Bulldogs at Furry Babies. Wanna know more about Frenchies, besides how cute they are? Let us tell you a few wondrous, but uncommonly known things about this sweet breed you've decided to own.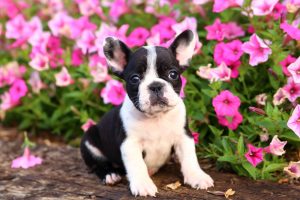 Center of Attention
Besides becoming part of an elite breed owner club, you may also become a local celebrity of sorts. Get accustomed to enjoying the attention garnered towards your French Bulldog because it will be the norm for you. Though they are a popular breed, they are still kinda rare to see so you'll get a lot of questions and request for posing in pictures.
Wait for the Water
Frenchies are not good swimmers. If you're a beach lover, we recommend letting them sunbathe instead of joining you in the water! Should you want to take them, make sure you use a life vest on your pup. Even if they aren't getting in the water with you, keep a close eye on your puppy at all times.
Terrific Temperament
One of the most endearing characteristics of Frenchie pups is that they are such well-rounded little fellas. They are known to be quiet, easy to train, yet silly and humorous dogs!  They are well-behaved with family, friends, and strangers. They crave attention and you better believe they get it! They don't require much space, thus they're perfect as an apartment puppy.  They can be little stubborn at times, if not trained properly, but overall Frenchie pups are affectionate and friendly dogs.
Quick Tidbits about Frenchie Pups
French Bulldogs do not handle heat very well and need to be monitored on hot days to ensure that they don't overexert themselves.

These babies are prone to drooling, flatulence, and snoring.

French Bulldogs can be a quiet breed, with the exception of the above bullet!

The French Bulldog does very well with children.

French Bulldogs make wonderful watchdogs.
There are so many wonderful qualities about French Bulldogs and guess what, we can share even more information with you. All you've gotta do is contact us or visit our website, we can't wait to hear from you soon!