Breed Profile: Miniature Australian Shepherd
March 16, 2021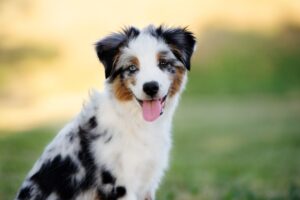 If you're in the market for a new puppy, Furry Babies has a litter of adorable puppies, including a miniature Australian shepherd puppy, waiting to be taken home. With three locations throughout Illinois — Lombard, Rockford and Aurora — Furry Babies is taking appointments for visits with a puppy for sale and can answer your questions about becoming a dog parent.
What to Know About Your Miniature Australian Shepherd Puppy
It's important to know what to expect when you bring your miniature Australian shepherd puppy home. Every dog is different, but there are certain common traits particular breeds have and having some prior knowledge can help make your lives, and your puppy's life, much easier. 
As the name implies, a miniature Australian shepherd is a smaller version of a regular Australian shepherd. The primary difference between a miniature and a regular Australian shepherd is size — regular Aussies can grow to be roughly 18-23 inches tall and 40-65 pounds, while miniatures typically max out at 14-18 inches tall and 20-40 pounds.
Similar to their larger counterparts, miniature Aussies are intelligent, energetic dogs with strong herding instincts. Because of their high energy, these dogs require lots of exercise, so it's probably best to have a backyard available to let them spend time outside. However, they enjoy learning new tricks and exercising their minds as well as their bodies.
Aussies also have thick coats that require weekly brushing, but compared to other breeds, grooming is relatively low maintenance for these pups.
Choose Furry Babies for Your Next Puppy
When you're looking for your own fur baby, Furry Babies should be your first call. Along with miniature Australian shepherd puppies for sale, Furry Babies has a broad selection of puppies for you to choose from and a Puppy Package available to help your puppy begin their new life.
The Puppy Package is available with the purchase of any puppy for an additional charge, and includes the following perks:
Your puppy is microchipped.

Your puppy gets checked twice by a veterinarian.

All first-year routine vaccinations are given to your puppy.

Your puppy gets three health exams conducted by trusted veterinarian partners.

Fecal examinations are done to ensure your puppy is free of intestinal parasites.

Upon request, your puppy can be spayed or neutered.

For the first month, your puppy receives flea, tick and heartworm medicine.

Your puppy gets his or her first rabies vaccination.

Each puppy comes with a 30-day puppy purchase warranty.
Check out Furry Babies online to browse the photo and video galleries of available puppies (including miniature Australian puppies) and to find the locations and phone numbers of each store. Call Furry Babies today to schedule your appointment!