3 Lovable Poodle Facts
August 1, 2018
People just love Poodles!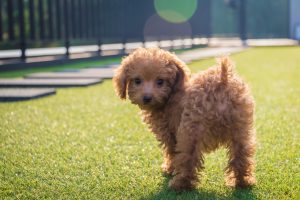 Whether it's their curly hair or their statuesque and regal demeanors (in all sizes), they are simply adored and favored! We have Poodle puppies for sale, and we know that you're going to love them just as much as we do. Here are just a few reasons why!
Fact #1
You know for sure that you want to purchase Poodle puppies for sale, but you're not sure if you want a tiny or small one. Well, you're in luck because Poodle puppies for sale happen to come in three different sizes – standard (large), miniature (medium), and toy (small).
Fact #2
Besides their beautiful and worldly familiar looks, they're widely known for their high level of intelligence. Next to the Border Collie, Poodles rank #2 in the smart department. You can teach them numerous fun and useless tricks or train them to be effective assistants for people with disabilities. Poodle puppies for sale are commonly used as therapy dogs, which also has a lot to do with their generally joyful dispositions.
Fact #3
While no dog is 100% hypoallergenic, Poodles come pretty darn close! This is one of the top reasons why our Poodle puppies for sale don't stay with us for long! People who suffer from dog allergies often purchase our Poodle puppies for sale. They shed very little and produce small trace amounts of dander, which is the allergen. Poodles are often mixed with other hypoallergenic dog breeds for this purpose.
You've just been equipped with 3 common and endearing facts about Poodles. We know you've just fallen in love with one of our Poodle puppies for sale, so now is the time to stop into one of our locations to pet a Poodle and take one or more home!  And by the way, we can help you finance a puppy if you don't have the immediate funds! Furry Babies offers financing on all our of our puppies. Getting approved is easy!
Whether you've picked out one of the puppies in our gallery or plan on coming into the store, fill out an easy application at any of our five locations to finance a puppy of your dreams! Contact us today for more information.