What You Need to Know Before Bringing Your New Puppy Home
December 16, 2020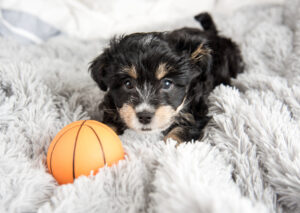 Did you know that the sale of dog diapers increased to $24 million in August of 2020? To give context to the large scale of that number—that's up 202% from the same time the year before. One of the main reasons for this growth is that more families are bringing a new puppy into the home. If you've landed on this guide, that means you're one of them! Are you curious about what puppy-proofing entails? How can you prepare your home for one, and how can you prepare your transportation for a smooth and uneventful trip? We explain it all below.
Here's How to Puppy-Proof Your Home
Puppy-proofing doesn't have to be challenging. For the most part, it entails removing potential problem areas—cords on the floor, breakables in reach, food from the countertops . . . You'll want to eliminate any issues before they happen (of course, you can expect one or two to sneak through the cracks; it's only natural).
Take a walk around your home and consider:
Hiding cords

Removing any food from within reach or placing it in puppy-proof containers

Placing any cleaning supplies or other chemicals out of the puppy's vicinity

Putting away anything sharp or breakable

Putting away anything that could be considered a choking hazard, including the trashcan, which could contain hard-to-pass or even toxic items

Keeping all doors and windows securely locked

Installing gates, if needed, on areas that are "off-limits" to your new dog

Placing cameras, if applicable, in a spot that keeps an eye on your pup

Removing

toxic houseplants

, or putting them on a higher shelf or in an off-limits room
Of course, this list only focuses on the inside of the home. The same care needs to be taken to the outdoors.
Secure any gates or fences, remove anything toxic or dangerous, and keep chemicals, such as pesticides, out of their reach. While your dog is inside or outside, be sure to always keep an eye on them.
These Are the Supplies Needed to Transport Your New Puppy Home
If you don't handle this initial stage well, it could set your new arrival off to a bad start. It could also be unsafe for you, the puppy, your passengers, and other drivers. 
Once your home is prepped for the puppy, you can plan for its first trip home.
If you're going with another person, this can ease some of the struggles, as one person can drive while the other manages the puppy in a backseat. Have the passenger hold the puppy in their lap, perhaps even using a blanket to comfort them. Know that an anxious puppy is normal in this stage—stay calm and encouraging!
If you're alone, you can consider putting the puppy in a comfortable crate, fixed with a blanket, a treat, and maybe even a chew toy.
For short trips, you can likely make it all the way home without needing to stop for a bathroom break. For longer trips, leash up your pup and let them get some release, and avoid a potty accident (and a clean-up situation for you).
Get Puppy-Minded Before the Arrival of Fido
Before bringing a new puppy into your home, it's crucial to set the scene.
To put it simply, a puppy is like a baby—puppies require supplies, homes need puppy-proofing, and it all takes care and dedication on your part. It's not something you can do on a whim with no prior planning, but you'll be so thankful you took the time. The better prepared you are before his or her arrival, the smoother the transition into puppy life.
If you haven't settled on the perfect furry friend yet, we can help!
Click here to browse all available, adorable puppies currently for sale through Furry Babies Inc. Feel free to give us a call if you have any questions as you're looking.