Tips & Tricks On How To Celebrate 'National Cook For Your Pet Day'
October 30, 2020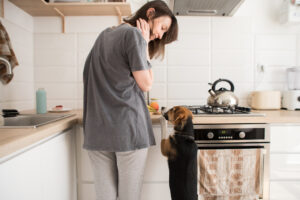 National Cook For Your Pets Day is one of the best days of the year to try out cooking for your pets and see how easy it is to elevate their diets.
Even when the day has passed, you can use the recipes you've learned in order to cook for your pet, improve their diets for the long term, or just make them extra delicious treats!
Read on to learn the best ways to celebrate this special day and our recommendations for the best simple pet recipes even after the day is over. 
A Little at a Time
If you're planning on making big changes to your pet's diet, it's important to do it gradually over days or even weeks. This is because a huge change can upset their stomachs or make them hesitant to try the food.
Instead of giving them a large bowl of your freshly made food every night, mix it with the kibble or wet food that they're used to. As the days progress, you can use less and less of the food they used to eat. 
Forgo These Ingredients 
Although seasonings often make or break a meal for humans, avoid them altogether for your pets. Seasonings such as oregano, thyme, rosemary, and more can irritate your pet's stomach. They may also refuse to touch their food because of the pungent, unknown smells.
You'll also want to avoid using:
Chocolate

Avocado

Citrus

Alcohol

Caffeine

Grapes and raisins

Milk and dairy

Macadamia nuts

Onions, garlic, chives

Yeast
This isn't an exhaustive list, so make sure you do your research before you start feeding your pet different foods. 
Talk to Your Vet
If your pet has any underlying health issues, it's important that you speak with your vet before you begin changing your diet. If your vet has a nutritional background, they may also be able to give you recommendations on what would be the most nutritious meals for your pet. 
Easy Pet Recipes
Now that you know some of the top rules of thumb, here is our template for easy pet recipes. Base your recipes on what your dog or cat responds to the most. For instance, if they don't seem to like sweet potato, maybe they would go crazy for broccoli instead!
Tablespoon of olive oil

Brown rice

Ground turkey

Chopped baby spinach

Shredded carrots

Zucchini

Peas
The easiest way to prepare these meals is to cook the rice beforehand. Then, shred or chop all the ingredients so that they're easy for your dog to eat. Add them all to a dutch oven with some olive oil and cook them up until the mixture has thoroughly heated through.
Let it cool completely before you serve it to your pet. As you can see, it's easy to substitute the protein and veggies, and you can cook a large amount ahead of time and serve throughout the week.
Cook For Your Pet: Nutritious Meals That Delight
When you take the time to cook for your pet, you're making sure that they're eating a delicious as well as a nutritious meal. Cooking for your pet is also a great way to aid pets who need help losing weight. Just make sure you speak with your vet beforehand! 
Keep reading our blog for more ways to connect with your new dog!