Tick-Tick-Boom! How to Avoid Ticks and Fleas this Spring
February 23, 2022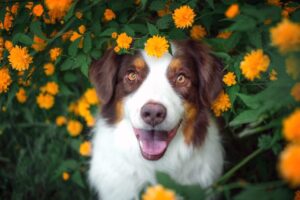 Being outdoors with your pup is one of the highlights of pet ownership. Whether it's a walk in the park, a swim in the ocean or pool, or a challenging hike, getting out of the house and into the wild is good for them and for us.
Ticks and fleas are the #1 uninvited guests to these trips. While the snow starts to melt and flowers start to pop up – don't forget that there are options for protecting Fluffy from these pesky insects. These pests can give your pet Lyme Disease, paralysis, and anemia – plus, they're extremely itchy and can even be painful.
The three main options for flea and tick prevention are chewable tablets administered monthly, ointment/oil-based preventatives administered in 3-month periods, or flea and tick collars. Shots are also available.
If your pup picks up an unwanted bug – you are not the first, so don't panic, but do take them to the vet because it can be hard to tell how long they have been on your pet and the longer the exposer the higher the risk.
You can choose what preventative option to go for or consult your vet before deciding (Rxs are required for chews and ointments); that, combined with a thorough combing after each hike/outdoor session should be more than adequate for protecting your four-legged family member!
Some Notes on Hiking with Your Pet:
Keep it Short and Sweet (in the beginning)
A walk offers enrichment and physical exercise. Exploring a new path or trail does extra work for the brain and body because they are physically taxed and mentally emersed in a whole new world of smells and sights.
All of this is to explain why you should keep your woodland adventures on the shorter side at first and build upon them each time you go. Start with 20-25 minutes and add 10-minute increments from there to avoid overwhelming your pooch.
Bring plenty of water
Reward a Good Recall
If you've been hiking for one day or years, always reward your dog immensely when they perform their recall command well. It is the cornerstone of safety in new situations and constant encouragement means continuous praise in our book.
All family members and friends (furry ones included) should stay together when hiking and never be out of eyesight from one another. In large groups this can pose a challenge so using the buddy system works too. It helps for everyone to have a physical print out of the trail if possible just in case cell service is spotting along the way.
They can be wonderful if your dog wanders out of earshot or for communicating with them silently and effectively over loud winds or rain – but unless you have your pup enrolled in a professional course with a remote collar, do not attempt this on your own as it can spook the dog and be counterproductive.