The Ultimate Puppy Buyer's Checklist!
February 3, 2021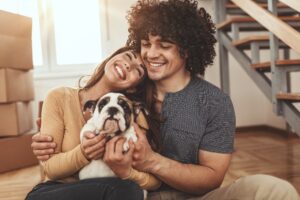 Pet owners know that life without a furry baby isn't worth living.  OK, that may be dramatic, but not by much. Pet ownership has been on a steady increase since the 1980s. Today, over half of all households in the United States include a pet. And 53% of those pets are doggos. Pet owners will also tell you that for all its joys, adding a pet to the family means work.  In this article, we'll break down everything you need to know before you check out puppies for sale as well as what to do once your furry babies find their way into your home. 
Buying a Puppy Checklist
So you want to join the ranks of happy homes with furry babies. That's wonderful! Pets can add so much joy and companionship to our lives. But, before you start looking at puppies for sale, have a run through this handy checklist. 
Do Your Research 
Puppies are a lot of work. And not all puppies are suited to all spaces. 
For example, if you live in a small apartment, getting a big dog that likes to run would probably not be the best choice. Smaller spaces would be better for smaller pups.  Some breeds are better than others with kiddos. So if you are bringing a pup into a family with little ones, you'll want to consider that. 
Meet and Greet 
It's always a good idea to meet any potential new family members before bringing them home. Most places with puppies for sale will have a play area where you can interact with the available puppies. This will allow you to gauge their temperament and see if they will be a good fit for your family.  All Furry Babies locations have these, and we encourage our customers to set an appointment to come in at their convenience.
Purchase Puppy Supplies
The obvious things are food and food bowls, a few toys, a crate, and a bed. The not so obvious include shots, microchipping, and exams. There is a fair amount to budget for, so be prepared.  We recommend all new puppy parents get our Puppy Package. We take extensive measures to make sure your new puppy is healthy and trackable should they get lost. 
Where to Buy Puppies Near Me
Furry Babies has several locations across the great state of Illinois. Visit our puppies at any of the following locales!
Lombard, IL

Rockford, IL

Aurora, IL

Chicago, IL
All of our locations are open, and the playrooms are available by appointment. We also offer financing, making buying a new puppy accessible for all budgets. 
Final Thoughts 
Buying a puppy is a big commitment. Make sure you and your family have taken the time to research and budget for your new furry friend before you start to look at puppies for sale.  If you have any questions or concerns or are ready to set your appointment, please reach out! Our friendly team is ready and waiting to help you find the perfect puppy.