The Best Winter Coats For Small Adventure Dogs
January 24, 2021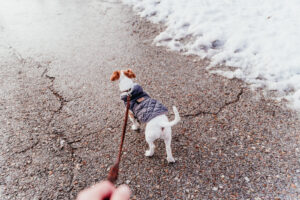 Winter is the best time of the year to go for hikes. Even if you do not like snow, you can still enjoy the outdoors because it is bright and clear. You can dress up in jackets and boots and explore the landscapes, and things will be even better if you have your dog with you. However, just as you need to dress up against the cold, so does your dog, especially if your dog is a small dog breed.
You can opt for these amazing winter coats for your dog if you want to go hiking around Lombard IL. 
1. Hurtta Summit Parka
This winter coat is great for dogs from small to medium sizes. It is equivalent to a high-end winter coat for humans. It provides full-body coverage for your dog and provides excellent protection if you go hiking in winters around Rockford, IL, where it could get very cold and windy.
It uses the dog's natural thermal insulation and keeps body temperatures stable, even when it is cold outside. Made from a water-resistant material, it helps in keeping off snow and sleet from your dog's back and yet allows breathability.
2. Ruffwear Powder Hound
This winter coat is more of a hybrid jacket. It has synthetic insulation with technical stretch fabric, making it very easy for your dog to move around. Some sleeves provide full coverage for warmth. It is great for powdery snow and keeps away cold with its enhanced insulation. It is also water-resistant to a great extent, though you should avoid too much moisture from melted snow or sleet, like found around Aurora, IL. 
3. Ultra Paws SnoJam
This winter coat offers very good protection to your dog against the cold. The outer shell of the coat is waterproof and the insides are very comfy, making use of super-soft, fleece lining. It also comes with an adjustable turtleneck, that you can raise or lower according to the weather conditions.
The jacket comes with reflective piping for enhanced visibility at night or in low light conditions. It comes in seven sizes, so it will fit the really small dogs too who are still up for a hike. 
4. Ruffwear Climate Changer Fleece Coat
This is a lightweight dog jacket, made from recyclable polyester, perfect for the colder months in Joliet, IL. It is designed to keep your dog super warm but is not bulky at all. Your dog will not be tied down by its weight during the long hikes. The jacket comes in a sleeved style, allowing maximum flexibility in limbs, perfect running, and climbing.
The jacket comes with a zippered closure, making it easy to put on and remove. It is made from quick-drying material. However, it might not be warm enough for very low temperatures and since it is made from fleece, it is not entirely water-resistant too. This jacket is meant mostly for dry and windy winter climes, like the ones in the onset of winter in Chicago, IL. 
With these winter coats, you can be sure your small adventure dogs will be safe and comfortable on a hike. Investing in a good jacket is investing in their health and both of you could enjoy the outdoors during the winter without worrying about your pooch's health.