The Best Ways to Get Your Dog into the Halloween Spirit!
October 27, 2021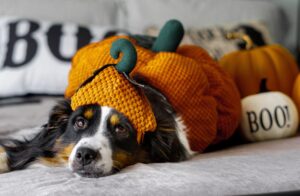 Whether you view Halloween as spooky, scary, or just plain silly, there is a good chance your dog wants in on the fun. Treat your neighbors, family, friends, and even pals on social media to the sight of your furry baby dressed up for the occasion. If you find yourself needing inspiration for your own pup or just want to browse through some cute pictures, keep on scrolling.
Costumes:
Matching the Family
Whether your theme is on the simpler side with all family members as one kind of costume (aliens, cowboys, etc.) or if you pick a popular TV show or movie and each dress up as a different character, there's got to be room for one more! Here's some inspiration from a Toy Story where the dog is dressed up as Rex, the toy dinosaur.
Extra, Extra, Post All About It!
If you know your pup doesn't mind a good theme (or costume rather) then go all out! Children's wigs tend to work for dogs as well and there's no shortage of available inspiration on Pinterest and other platforms.
via DogClownCostumeDIY on Pinterest
Easy, Breezy Costumes
For the dogs less inclined to dress up, consider sticking to a head piece or bandana to include them in the festivities without stressing them out. Some animals dislike wearing clothes but that doesn't have to mean total exclusion from the party!
Also consider costumes that easily latch to their harness – like bat wings, so they have the familiar sensation of their harness and are less likely to be irritated by the decorations.
A Good Ol' Fashioned DIY
This can apply weather matching the fam or striking out on their own, if you make your pup a DIY you're sure to get brownie points from trick-or-treaters! This ninja turtle is just one example of how you can opt to create the look versus purchase online.
Hilarious > Haunted
Holidays are celebrated by everyone but the traditions we hold are also personal! If your dog has something they're frightened of, like thunder or the vacuum, consider dressing them up as a superhero and drawing a logo on the front to show their super hero level courage against their nemesis. After all, isn't every dog a Super one? Or if they have a propensity for stealing food off the table or getting into the trash maybe dress them up as the "Garbage Bin Bandit". A robber is always a good dog costume because they legitimately cost Americans upwards of 1 Billion Dollars a year!
Make it personal and fun to you – people will be overwhelmed with the cuteness of it all anyway.
Fall Activities
If you enjoy getting outside in the fall, you might be surprised how many places allow or even encourage you to bring your dog!
Hiking is a must,

just be aware of high period of flea and tick activity and check your pets after a long walk in the woods. It is best if they are on a yearly flea/tick/heartworm preventative as well.

Apple/Pumpkin Picking, anyone?

A ton of orchards allow four-legged friends to join! Always call ahead to ensure as this policy varies from place to place. With all the smells, sights, and people, it's literally a puppy playground.

Trips to see the leaves change

. A vacation is fun for everyone, and with tons of people working remotely, even more flexibility exists for small vacations. If venturing to a cabin upstate or anywhere to get away this fall, consider picking a cabin or hotel that allows dogs!
The holidays will be here before we know it but until they arrive, and are kicked-off with Halloween, get outside and bring your pup with you.