The Best Active Dog Breeds to Ring in Walking the Dog Day
February 17, 2021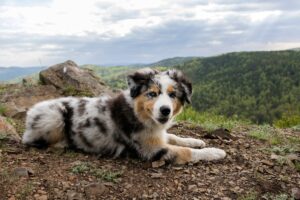 If you lead an active lifestyle, one of the best ways to spend more time outdoors is to look for puppies for sale. Young dogs are balls of energy who are always ready to seize the next opportunity for adventure. Once you have a new pup by your side, you'll be looking forward to every outing, whether you're going for a quick jog around the block or an afternoon in the park.
You can further strengthen your bond with your dog on February 22, which is officially recognized as National Walking the Dog Day. To get the most out of this dog lover's holiday, consider bringing home one of these active dog breeds.
Border Collie
Border collies are known for being agile runners, which makes them the perfect companion to bring along with you during your morning runs. These dogs have higher exercise requirements than most canines, so if you're looking for a pup that can keep up with your daily exercise sessions, a border collie may be the right breed for you.
Australian Shepherd
Australian shepherds are also known for being one of the most active dog breeds out there. You'll have trouble getting one of these pups to sit still, which is the perfect deal if you're always on the go. Australian shepherds also have a reputation for being sociable and highly protective of their owners, making them the perfect pet for any kind of dog lover.
Jack Russell Terrier
For all the long-distance runners out there, a Jack Russell terrier is the dog you need. Their high stamina and adventurous nature ensure that they'll never run out of steam during their outdoor journeys. No matter where you decide to take your Jack Russell terrier, you'll always have company when you have this dog by your side.
Vizsla
Any fitness enthusiast will appreciate this highly athletic breed. The vizsla can do all kinds of tricks, such as running, leaping and navigating obstacles. However, there's more to this active dog breed than its grace and agility. Vizslas are also highly trainable, so you're likely to have an easier time helping them follow instructions and adapt to their environments.
Choose the Right Active Dog Breed for You
The next time you search for puppies for sale, be sure to keep these popular active dog breeds in mind. Our available puppies span all kinds of breeds to ensure that you find the pet that's a perfect match for your needs. Whether you prefer an energetic Jack Russell terrier or a sociable Australian shepherd, a new pup is sure to lift your spirits and enrich your quality of life. Book an appointment with us at one of our locations in Lombard, Rockford, Aurora, or Chicago to meet your new furry friend today.