Tasty Treats to Make Valentine's Day Special for Your Dog
February 10, 2021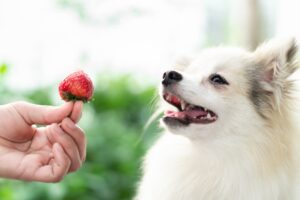 On Valentine's Day, the spotlight is usually pointed towards couples. However, this holiday is also the perfect opportunity to show your furry friend how much you care about them. One of the best ways to spoil your pup this February is to whip up some tasty Valentine's Day treats for dogs. Here are some easy recipes to help you get started.
Cranberry Hearts
If your pup is on a grain-free diet, these treats are sure to please them. To begin, gather the following ingredients:
2 eggs

1 1/2 cups of almond flour

1/2 cup of dried cranberries

3-4 tbsp of coconut flour

1 tbsp of coconut oil

Heart-shaped cookie cutters
After preheating the oven to 330 degrees Fahrenheit, beat 2 eggs in a bowl. Combine the coconut oil, almond flour and dried cranberries and pour in the eggs. Once all the ingredients are fully mixed, add 3-4 tablespoons of coconut flour. Be sure to mix it all together after adding each tablespoon.
After rolling out the dough, use your heart-shaped cookie cutters to cut your dough into tiny hearts. Line the treats up on a parchment paper-covered baking sheet and bake for about 15-18 minutes. Let them cool and serve them to your pup.
Frozen Strawberry Treats
If you prefer Valentine's Day treats for dogs that don't require any baking, these frozen strawberry treats are for you. You only need 2 ingredients to get started: 3-4 finely diced strawberries and 1/4 cup of coconut oil.
Take an ice cube tray and place a few pieces of strawberry into each compartment. Next, pour 1/4 cup of coconut oil into a measuring cup and melt it in the microwave for 30-60 seconds. Once the coconut oil is fully melted, pour it over the strawberries and place the ice cube tray into the freezer. Remove the strawberries from the tray once frozen and place them in a baggie before returning them to the freezer.
Peanut Butter and Yogurt Hearts
What dog doesn't love peanut butter? If your furry friend can't wait to get their paws on this delicious spread, they'll go nuts for our peanut butter and yogurt hearts.
Start by gathering these ingredients and supplies:
Plain Greek yogurt

Peanut butter

Heart-shaped ice cube tray
Take the ice cube tray and place a small dollop of peanut butter into the bottom of each compartment. Next, cover the peanut butter with large spoonfuls of Greek yogurt. Make sure each compartment is fully packed by pressing the yogurt down with a spoon. Place the ice tray in the freezer and let it sit for at least 4 hours. After removing the tray, pop out each heart treat and serve it to your dog.
Whether you're looking for puppies for sale or already have a precious pup waiting for you at home, your dog is sure to be the happiest pet on the block when you treat them to these mouthwatering Valentine's Day treats for dogs. Stop by one of our Illinois locations in Lombard, Rockford, Aurora, or Chicago to bring home a new puppy for Valentine's Day and embark on a meaningful journey with them.