Swimming Safety Tips for You and Your Dog
March 23, 2020
With temperatures warming and springtime just around the corner, you're probably already thinking of fun water excursions with your furry babies. And who can blame you? Sitting by the pool or trips to the beach or lake is even more fun with Fido in tow.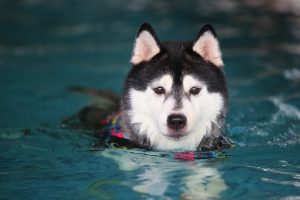 Before you hit the water, here are some tips to make sure you and your pup safely enjoy your next aquatic adventure. 
Not all dogs are natural swimmers.
You read that correctly. Not all dogs are comfortable in the water. Some dogs with large bodies and short legs, like bully breeds, may have trouble balancing their body and staying afloat in the water. While they can swim, this doesn't mean they necessarily enjoy it. 
Help your dog feel comfortable in the water.
If your best buddy shows an interest in water, work with her to make sure she is comfortable and able to enjoy it. Try tossing a ball or stick progressively further away from the shore or pool entry steps, allowing your dog to fetch it. One method to avoid is tossing your dog into the water. This can be traumatizing and pose a drowning hazard for your dog. 
Stay close to your dog. 
Even if your dog is a seasoned swimmer, he can't call for help like a human and may get tired quickly if he's struggling in a rough current or tangled in water vegetation. Keeping an eye on your pup during swim time is essential for their safety.       
Get a life jacket. 
Pet life preservers are more than a cute accessory. They can help your dog stay afloat if she falls overboard on a boat or dock and often has a convenient handle making it easier to scoop up your canine companion. 
Encourage pool safety. 
Teach your dog how to safely exit the pool, in case he accidentally falls in. Also, consider installing a fence and pool alarms for added security.
Bring drinking water. 
Water in pools, lakes, or at beaches is great for swimming and recreation, but it isn't safe for drinking. Bring along water to keep your pup hydrated during all of the fun.
Practice safety at the beach. 
Beaches may seem like an ideal spot for warm-weather fun, but elevated levels of bacteria, strong currents, and rough water can be as dangerous for dogs as they are for humans. Additionally, beach sand can be filled with broken seashells, roundworms, or even jellyfish. Keep a close eye on your pup wherever her beach adventures may take her.
Keep in mind that ocean water is not the only water that can be dangerous for dogs. Swimming holes, ponds, lakes, and other natural bodies of water, can be contaminated. When available, check the water quality before planning your outing.
Clean your dog's ears. 
Just like humans, dogs are at risk for ear infections. Make sure that you thoroughly clean your dog's ears to remove any harmful bacteria, excess water, or debris that can cause illnesses or discomfort. 
When considering any water activity, the best rule of thumb is that if conditions are too dangerous for you, they're also too risky for Fido.