Spring Essentials for your Dog
April 20, 2022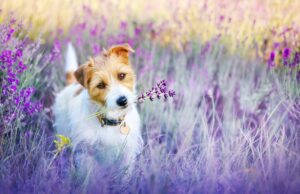 Okay, so essentials might be stretched on the list below (we think food, water, shelter, etc. are give-ins since you're reading a pet store blog page). However, we'll keep the bougie accessory list to a minimum. These are household items that do double-duty and come in handy when taking your dog on the hottest spring trails!
In Your Home (Basics)
Give these things a surprising second life by repurposing them for your pup!
1. Lint-Roller
Great for removing ticks easily after walks through wooded areas if you plan on doing any hiking this season. Make sure to consider flea and tick preventatives year-round, too! There are tons of options from chewables to collars – all to ensure your pup is a lot less likely to encounter lyme disease.
2. Egg Cartons
Cardboard egg cartons stuffed with treats and shredded paper are wonderful for shredding and scent work. This is a low-cost game for your dog that will keep them engaging and mentally stimulated indoors on a cold or rainy day.
3. An Old T-shirt
If you're taking your dog on a car trip, putting an old unwashed t-shirt of yours with them in the backseat or crate can be extremely helpful in easing their anxiety – road trips especially are a lot of noise and mental stimulation for younger dogs.
4. Plastic Bottle
A plastic bottle with an old blanket wrapped around it and tied on each end is the perfect crunchy-sounding toy for a dog bored with his normal routine – bonus points if you put tennis balls on each end for extra bounce and entertainment!
Slightly Bougie Must-Haves
1. Ceramic Dog Bowls
Did you know you're supposed to wash your dog's food and water bowls daily? This helps rid them of harmful bacteria. While most people may not do this every day, there is no doubt steel and plastic are great alternatives but ceramic is likely to hold the least bacteria between washes.
2. Suntan lotion spray – yes dogs can get sunburnt!
Their hair and fur protect their skin in most places but on the tip of their snout where their hair is less dense, and the underside of their belly, they have exposed skin; remember to reapply if out and about for hours.
The Material Gworl Extra Bougie Packing List
1. Paw balm – gotta stay moisturized.
We like ones that use beeswax because they help out our bee friends! But any pet-grade snout or paw balm will do (they also come in lotions).
2. Dog Luggage
If you've ever experienced the pain of portioning your pup's meals into what feels like a million little plastic baggies consider the more sustainable option of dog luggage. Some even have compartments for food, treats, toys, and can slide onto your own bag.
3. Backpack carrier – this one is only recommended for our small and small-medium sized furry friends.
A backpack can help the fun keep going when the puppies are pooped! If you are very active and know your pup can't keep up, don't leave them at home, just pop them into a chest or back harness and keep on hiking!
We hope you enjoyed this list of "must-haves" – keep checking back for more lists like this one!