Spectacularly Spooky Halloween Pet Costume Ideas
October 10, 2019
Spending time with your furry babies is always fun, but dressing up for Halloween takes the fun to the next level.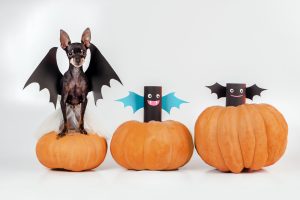 With Halloween just around the corner, now is the time to start planning your best pal's costume. We've scoured the web and below are some of our favorite pet costume ideas, from DIY to matching. These costumes are sure to inspire a scary good time!
Rocket Dog Costume
You know your dog is out-of-this-world adorable, and now it's time to show everyone else. To make this easy-to-craft costume, you just need two empty soda bottles, duct tape, yellow and orange tissue paper for flames, and silver spray paint. 
via The Spruce 
Fire Brigade (Kids and Pet Coordinated Costumes)
Coordinate your furry babies and your human babies with this fun themed costume. Transform your child's wagon into a fire truck and let your little one lead the charge to save the day with their trusty crew in this fireman-inspired costume. 
via DIY Network
Local Business Man
Being cute is a full-time job, and your pet is ready to share their skills and experience to earn your business. This simple DIY costume is perfect for your dog. All you really need is a tie and the rest is up to your creativity. You can add cuffs, a collar or even a vest. 
via HGTV
Hot Dog and Vendor Costume
Dress your "hot dog," load up your vendor box and get ready to serve up some deliciously adorable fun in this dog and pet parent coordinating costume. Check out Wide Open Pets for even more ideas. 
via Wide Open Pets
Minion Madness
Minions are the perfect group costume for your dogs. These costumes can be purchased or a DIY creation. Complete the look by transforming yourself into Gru with a gray and black scarf and a black long-sleeve shirt.
via Jerry Douglas on Flickr
Is your best buddy joining in on the Halloween festivities? We want to see their costumes! Show us a picture in the comments.