Shihpoo Puppies Will Steal Your Heart, Come By and See Them Today!
February 24, 2018
If you've never heard of the Shihpoo, we guarantee you won't want to let this sweet breed pass you by!
Shih Tzu meet Poodle, Poodle meet Shih Tzu! Two of the most loyal, intelligent, and cuddly creatures collide to make the Shihpoo. We've compiled several things you'd love to know about Shihpoo puppies and how their presence in your life will greatly skyrocket your happy meter!
These Shihpoo puppies truly love to play! They can and will spend time playing with their squeaky toys, chasing balls, or playing with each other, if there's another Shihpoo in the vicinity.
They have a long lifespan, living to be about 10 to 15 years old.
Shihpoos are smart, but they can be stubborn little smarties. To properly train them, you should know that they're highly motivated by treats!
They love laps!  Shihpoo puppies are companion dogs and as we previously mentioned, they are complete cuddlers. They love people and need to be around their owners or other family members. One should never allow them to live outdoors.
Their have soft and thick coats. While they don't shed excessively, they require frequent grooming and trimming. Bonus – most Shihpoo puppies are hypoallergenic.
They don't need a lot of exercise, because these furry babies are already energetic enough. Playing is fine, but be careful not to overexert them, as it can be harmful to their health.
Some of the health problems that commonly affect Shih Tzu dogs include eye problems, brachycephalic syndrome, hip dysplasia, renal dysplasia to name a few. These are not present in the Poodle, so consequently Shihpoo puppies born from Shih Tzu/Poodle parents are less likely to experience these issues.
In the last two decades, Shihpoos have become a very popular hybrid breed of dogs, largely due to the Poodle's reputation for having hypoallergenic fur.
Shihpoos come in a wide variety of colors, such as all black, all white, cream, sable, tan, and any mix and combination.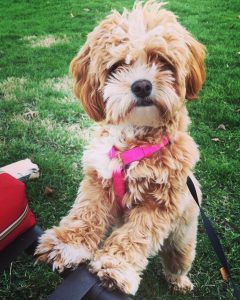 To find out more about the Shihpoo breed, never hesitate to give one of our stores a call! Or better yet, head down to one of our locations today to snuggle some puppies in person! Want to see the puppies we have for sale right now, click here for our available puppies page!