Pumpkin Benefits & Recipes For Your Pooch
September 9, 2019
Brisk mornings, pleasant afternoons, and changing leaves, fall is here! This is one of the best times of the year to enjoy trips to the park and long walks with your furry babies. It's also a great time to indulge their sweet tooth in the season's signature taste—pumpkin. This fruit (we double-checked; it's definitely a fruit) isn't just delicious, it's also good for dogs. In this blog, we'll discuss some of the benefits that Fido can get from pumpkin, along with some of our favorite recipes to help you whip up something delicious for your best pal. Let's start with the benefits.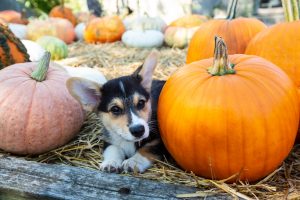 Pumpkin is Nutritious
Pumpkins are packed with vitamins. Those particularly good for your pup are vitamin A, vitamin C, and zinc. With vitamin A, your dog receives nutrients that can help with overall vision health. Vitamin C is a great dietary addition to boost their immune system, while zinc is the go-to supplement for skin health and a shiny coat. 
Natural Weight Management
If your best pal needs to lose a few pounds to maintain a healthy weight, no need to deprive them of yummy food. Replacing a portion of your dog's food with naturally low-calorie canned pumpkin will help your dog feel satisfied with smaller-sized meals. Talk to your veterinarian to determine the best pumpkin-to-food ratio for your dog. 
Digestive Health for Dogs
Pumpkin is fiber-rich, which is great news for your dog's digestive health. Whether they are experiencing diarrhea or constipation, PetMD recommends adding a tablespoon of canned pumpkin to your buddy's food to help soothe their stomach issues.
Great for Urinary Health
Oils found in pumpkin seeds may help prevent urinary tract infections in your dog and promote overall urinary health. 
Now that you know a few of the benefits, what are some ways to share pumpkin-goodness with your pal? To start, make sure that you are giving your dog pumpkin-only canned products. Pumpkin lattes, pumpkin pie filling, and other canned pumpkin products with nutmeg and other spices considered toxic and damaging to your dog's health.
Not to worry, though, there are lots of ways to create treats that will inspire your pal to sit, stay, shake, and roll over for a pumpkin-infused reward.      
Homemade Pumpkin Dog Treat Recipes
Pumpkin and Peanut Butter Treats
With just three ingredients—peanut butter, pumpkin, and flour—these treats are sure to become a staple in your puppy pantry. Recipe creators, Kevin and Amanda, recommend freezing these treats to give your pal a cool treat. 
Give your dog a real taste of fall with this recipe from Three Little Ferns. Combining pumpkin, apple, and oatmeal, these treats are easy to make and a healthy snack option. In addition to nutrients from pumpkin, dogs also get even more vitamins A and C from apple, while oatmeal (a great alternative to flour) keeps their skin healthy and boasts anti-inflammatory benefits.
Grain-free Pumpkin and Peanut Butter Treats
Using coconut flour and coconut oil, these treats are great for dogs with grain sensitivities. Plus, the recipe yields plenty of treats. So, you can feel good about sharing these with other pet parents, knowing it won't upset their four-legged pal's stomach. This recipe blog even offers some cute tips for packaging the treats as gifts. 
Pumpkin Dog Treats with a Bacon Peanut Butter Glaze
Sometimes treats are all about indulgence, and that's what this recipe from Pinch of Yum is all about. Delicious pumpkin and peanut butter treats are baked for 15 minutes then topped with a decadent bacon peanut butter glaze. This is recipe is a keeper. 
What are some of your favorite fall-inspired treat recipes? Share with your friends and find out what they have up their sleeves for fall treats.