Protecting Your Pet's Paws during the Winter
November 26, 2019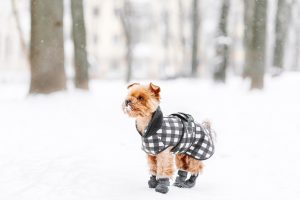 Snow, ice, salt, chemical deicing agents and frigid temperatures can make walks more than a little unpleasant. They can be downright dangerous. Keep your dog's paws safe and healthy this winter season with these helpful tips. 
Groom paws regularly: Trimming your dog's coat, especially if they have long hair, is essential in winter, especially for paws. The hair between your pet's paw pads can collect ice balls, salt crystals, and deicing chemicals that are tough on their skin and can make them sick if ingested. Keeping this hair neatly trimmed makes winter walks safer. 
Avoid: Don't cut hair too short or shave your dog to the skin. Your dog's coat helps them stay warm during the chill. If you're unsure about grooming your dog for winter, contact your vet or a professional groomer.  
Keep it short: Long walks expose your dog and their paws to the harsh effects of winter weather. Instead of a single long walk, adjust your best pal's schedule to include frequent short walks. 

Towel off: When you return from a walk, make sure to have a towel handy to wipe your pup's paws and stomach, removing any snow, ice, and other debris that they may have collected during your stroll. Dipping your dog's paws into lukewarm helps ensure that all of the debris is removed.

Paw wash cleaners

are designed for dogs and help you clean paws thoroughly while minimizing the mess.       
Tip: Cleaning your dog's paws is a great opportunity to check them for redness, cracks, or other signs of irritation. 
Give them the boot(ies): One of the best ways to protect Fido's feet is with snow booties. When choosing the best ones for your dog, look for those with good traction, made with water-resistant material, a flexible sole to help your dog walk naturally, and velcro for getting them on and off easily. The AKC recommends QUMY dog boots as the best choice. Check out

their other recommendations

in this list of top snow boots.  
Tip: To get your dog used to wearing boots, have them wear the shoes for short periods of time in the house. Make sure to praise your pup in their new shoes and don't laugh too hard when they're learning.
Prepare and repair with balm: Balm, like

Musher's Secret

, is a great way to protect your pet's paws before and after walks. First, apply a thin layer of balm to your dog's paws to protect them from irritants during your walk. After cleaning their paws following your walk, gently rub another thin layer onto their paws to soothe redness and repair cracks. 

Be considerate: If it's too cold for you, it's too cold for your dog. When temperatures dip, make sure to keep your dog's comfort in mind. In addition to protecting their paws, use sweaters if needed, limit time outdoors, and never leave them unattended in vehicles where they can be exposed to excessive cold and hypothermia.    

 

   
Harsh winter weather may alter your routine with your best pal, but these tips can help make walks and outdoor time more comfortable for your dog.