Have You Heard About Furry Babies' Pomsky Puppies for Sale?
December 7, 2017
Furry Babies can be your local pet store resource for all things puppy, including the latest in designer breeds like the Pomsky!
Pomskies are a relatively new breed that has been sweeping the nation lately! What exactly is a Pomsky, you ask? Well, it's the latest hybrid breed to gain popularity across the US and comes from crossing a Pomeranian with a Siberian Husky. Even with their enviable Instagram and Pinterest success, it can be hard to track down Pomsky puppies for sale, but have no fear! If you think the Pomsky is your ultimate companion, Furry Babies has what you're looking for! Just check out all of our adorable Pomsky puppies right here!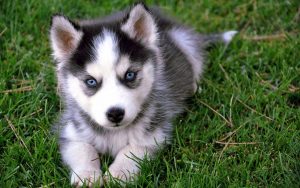 As a hybrid, you might be wondering what Pomskies look like!
Because they are a cross, Pomsky puppies are very unique and can vary widely from puppy to puppy, even in the same litter. While Huskies come in few colors like black and white, red and white and grey, the Pomeranian can be any color of the rainbow! Not literally any color, but they do come in quite the variety, causing Pomsky puppies to have complex color backgrounds. The most sought after colors mirror the signature Husky looks and when they have those piercing blue eyes, you better watch out! Size-wise, the Pomsky is right in the middle of their parents, topping out at an average of  20-30lbs.
What happens once you take a Pomsky home?
This Pomsky breed is full of energy, and very loving and playful, but no two dogs will ever be alike. Generally, they inherit the personality traits of both the Pomeranian and the Siberian Husky. They are also highly intelligent, and can easily be trained through reward methods.
With both parents being very active, despite their rather large difference in size, it makes sense to expect that your Pomsky puppy will be an playful bundle of energy. Both parents also have what can be called "selective listening" when it comes to training, but with positive reinforcement and lots of treats, we have no doubt you can have a well-behaved pupper!
Still have some questions about this fun, spunky breed? No problem, just give us a call at any of our five convenient locations and our wonderful staff can help you out!