Our Go-To Picks for Carpet Cleaning
March 9, 2020
One thing is certain with pets and carpet—accidents are inevitable. Whether it's urine, vomit, muddy paws, or everyday pet odors, carpet traps smells, stains, and debris. This can leave unwanted stains and smells in your carpet and make an uncomfortable indoor environment.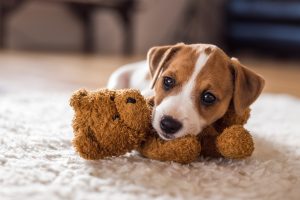 Regular cleaning and quick methods to remove accidents are key to maintaining a healthy home for you, your family, and furry babies. Here are some of our favorite ways to keep your carpet fresh and clean.
Wet Mess Removal
Blotting stains with paper towels only removes surface liquid, leaving the majority to soak into your carpet. With a handheld extractor, you can suck up wet accidents quickly and prevent the moisture from soaking further into the carpet and padding. Handheld vacuums, like the Bissell Pet Stain Eraser, are great for removing wet messes and applying carpet solutions for a deeper clean.
Solid Mess Removal
Remove solid pet accidents with a putty knife and dustpan. Rather than relying on dust cloths or shampoo machines that can push bits and pieces further into the carpet, a putty knife and dustpan makes it easy to scrape and scoop up the mess more efficiently.
Spot-Cleaning Solution
Once you've removed the wet mess or solid debris, it's time to eliminate any lingering stains or odors. Our go-to choice for spot-cleaning your carpet is Rocco & Roxie Professional Strength Stain & Odor Eliminator. Certified safe for all carpets and gentle enough to use around pets and children, this enzyme-activated spray works quickly and thoroughly to remove stains and odors from a variety of surfaces, including carpet, upholstery, litter boxes, kennels, and more.
DIY Recipe
Want to keep your carpet clean without adding chemicals to your indoor environment? Equal parts white vinegar and water are a natural, powerful combination to remove stains. Then, a bit of baking soda eliminates any lingering odors. Check out this article from The Bark for more detailed information on using white vinegar, water, and baking soda to keep your carpets clean.
Portable Deep Cleaner
Some accidents may require more effort than a spot-cleaning solution. The Bissell Little Green ProHeat Portable Deep Cleaner is great for tackling tough stains and odors. Using powerful spray and suction, along with a built-in water heater and a convenient crevice tool, this portable cleaner can handle the toughest stains on carpet and hard-to-clean areas like stairs and area rugs.    
Large Area Cleaner
Although accidents are typically in small areas, daily wear and traffic can wreak havoc on your carpets. Regular maintenance with a carpet cleaning machine keeps your floors in top shape. The Hoover Power Scrub Deluxe Carpet Cleaner is the perfect choice to deep clean your floors and removes dirt, odors, and debris lingering below the surface.
What other ideas do you have that have worked? Share with your friends and get more ideas.