Our Cavalier Puppies for Sale Are So Cute, Come Check them Out Today!
November 4, 2017
Want to learn more about Cavalier King Charles puppies? Just read along with our blog!
While the ancestors of Cavaliers have been gracing the laps of royalty for centuries, this loving little breed is perfect for regular families too! Their soft demeanor and affectionate nature make them perfect for families with children of all ages, new couples getting their first pet and seniors living alone. We think that's the best thing about Cavalier puppies for sale, they can make so many different people happy!
Truly a jack-of-all-trades!
Although he's born to be a companion, the Cavalier King Charles Spaniel dog breed retains the sporty nature of his spaniel ancestors. If he's not sitting on a lap or getting a belly rub, nothing makes him happier than to flush a bird and then attempt to retrieve it. One of the largest of the toy breeds, he's often as athletic as a true sporting breed and
enjoys hiking, running on the beach
, and dog sports such as agility, flyball and rally. Some have even shown their prowess as hunting dogs. The more restful members of the breed find success as family friends and therapy dogs.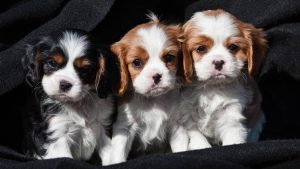 Cavalier characteristics and personality
The Cavalier King Charles comes in four distinct color combinations:
Blenhiem – this is the most common color, which is noted as a rich chestnut brown on a white background, or white with brown spots. Some Blenheims have a thumb-shaped chestnut dot on top of the forehead, called a lozenge. This is actually a very prized marking, as the very first litter of Cavaliers was supposedly born with it.
Tri-color – also a very popular color, they consist of black markings on a white coat with tan markings over the eyes, on the cheeks, and on the underside of the tail. Very regal!
Black & Tan – Similar to the Tri, this color has black with tan markings over the eyes, on the cheeks, inside the ears, and on the chest, legs and underside of the tail. However, they should not carry any white in their coats.
Ruby – This is by far the rarest color. Rubies are all auburn brown and should not have any white markings.
Has the Cavalier King Charles stolen your heart like they have ours? We hope so! Give us a call today to see if we have any Cavalier puppies for sale in one of our locations! Or check out all of our available baby puppies right here!