oston Terrier Puppies: Little and Dapper!
October 5, 2018
Are you looking for a playful and pleasant breed?
If the answer is yes, then one of our Boston Terrier puppies for sale fits the bill. They are full of energy and oozing personality!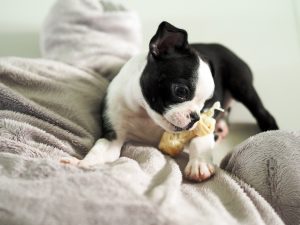 Surely you recognize Boston Terrier puppies because they have big old bubbly eyes and they're always small, sturdy, black and white. They are also "made in the USA." Really, they are! Many people don't realize that they are one of the only dog breeds to be bred originally in the United States and from, you guessed it, Boston, Massachusetts!
They are commonly known as the "American Gentleman" of dogs. Why? Well, we mentioned that they're always black and white, which gives them the everyday dapper look of being in a tuxedo! These Boston babies have been around American households consistently since the 1960's. Do you think one of our Boston Terrier puppies might be right for you and your family? Do you need more information to make a decision? Keep reading for interesting facts about the temperament and characteristics of the Boston Terrier. While you're at it, take a look at our currently available puppies to see pictures of our Boston Terrier puppies for sale.
Boston Terrier Facts:
Boston Terriers are an active breed so they will require daily exercise to burn off their energy and keep them from being destructive and restless. Be mindful; however, of the weather with Boston Terriers. Because of the flat nature of their faces, they can get overheated from extreme play or weather conditions.

All Boston Terrier puppies will have short, smooth, and very shiny coats. Of course, they'll be black and white and sometimes brown and white!

They will also have the most adorable, and almost comical, curly tails that resemble a piglet's.

Boston Terriers range in weight. They can be as small at 14 pounds or go all the way up to 28 pounds!

They have an average lifespan of about 12 to 14 years.

You'll find that Boston Terrier puppies are great with children and also other pets. Because they are rather sturdy dogs, they can handle a little rough play with toddlers!

They don't shed a lot so to keep their coats looking good, give them an occasional bath and brush them on a weekly basis. They are low maintenance pups, which is preferred right?
We have only scratched the surface on the many aspects of Boston Terrier puppies for sale. We have tons more information at your disposal. Just give us a call or contact us by clicking here.