Meet Your Best Workout Buddy: Your Dog
May 13, 2020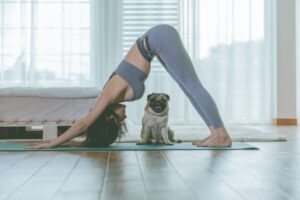 Combine two things that your dog loves: exercising and spending time with you. In this era of social distancing, your dog is a great choice for a workout buddy. Here are 5 of our favorite exercises that you and your furry baby can do together. 
Walks
That's right—your daily walks with your dog are exercise. In fact, brisk walks can help you and your best buddy develop a stronger heart, lower blood pressure, increase energy, and reduce the risk of depression. There are no limits on time or distance. Just go at a pace that's comfortable for you and your dog. 
Jogging
For pet parents of more active breeds, like Labradors, dalmatians, and border collies, running is a great way to satisfy your dog's need for activity and get in some bonding time. While your buddy might be eager to keep pace with you at all times, make sure to put his safety first. Avoid forcing your dog to run further if he starts lagging behind and schedule your runs for cooler times of the day to avoid heat exhaustion. 
Cycling
Not really a runner, but looking for a more vigorous workout than walking? Let Fido run along beside your bike. Use a device called a springer to ensure your dog stays close to you and safe on rides. Check out our blog on biking with your dog for more tips on safety and acclimating her to the experience
Fetch
This is a no-brainer when it comes to exercises that your dog will enjoy, but how does it benefit humans? While your dog is retrieving the ball, work in some squats, crunches, or lunges. 
Hiking
If you have trails near your home, hiking is a great opportunity to get outside, enjoy nature, and burn some calories with your best girl. If you'll be exploring heavily-wooded areas or other places where ticks may be, make sure that your dog has up-to-date on her flea and tick prevention. Also, check for ticks and other insects after your outings. 
Regardless of the exercise that you choose, visit your veterinarian first to make sure that your dog is in good health and ready to start a new workout routine. Plus, learn how to spot signs that your dog might be over-exerting himself. 
Exercising with your dog is a great bonding experience that offers incredible health benefits to both of you. Just make sure that you always put your safety and your pet's safety ahead of any workout schedule.