Many (Not so Miniature) Facts About Miniature Schnauzer Puppies!
March 10, 2018
We know you want to learn all about those handsome Mini Schnauzer puppies and we're here to give you what you want!
What we've done is compiled some of the most compelling and interesting facts about those magnificent Mini Schnauzer puppies!
Unlike the rest of the Terrier group, Schnauzers come from Germany, instead of the British Isles. The "terra" in terrier translates to earth, meaning the dogs were bred to burrow underground as they hunted small prey.
Mini Schnauzer puppies have a thick, wiry, double coat, which came in handy while they dug into the ground, as it naturally kept off debris. As an added benefit, they do not shed much, so they are perfect for potential dog owners who have allergies.
Miniature Schnauzers were farm dogs that were used as ratters. Their full facial hair would sometimes be matted down, serving as thick armor to protect the Mini's precious face from its prey.
The breed was first recognized by the American Kennel Club in 1926.
In 1933, the AKC recognized the Miniature Schnauzer as a separate breed from the Standard Schnauzer.
In German, "Schnauzer" means snout or muzzle, but the associated colloquial term within the breeding community is "beard" or "mustache."
The Mini Schnauzer puppy generally grows into a healthy adult dog, with some specific health concerns. Miniature Schnauzers are prone to the Schnauzer Comedo Syndrome disease.
Miniature Schnauzers tend to stick close to home, rarely wandering!
Of the various Schnauzers that are recognized by the AKC, Minis are the most popular!
There is no such thing as a toy Mini Schnauzer puppy or a teacup Miniature Schnauzer. Beware if you encounter such a "breed" as they're not officially recognized by the American Miniature Schnauzer Club. It is likely a gimmick to raise the prices of these precious pups. All of our puppies come from respected and reputable breeders.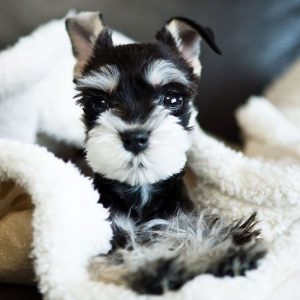 ***BONUS***
Here are 10 frequently combined Mini Schnauzer puppy mixes (not to mention some pretty funny and inventive names):
Bowzer  – Basset Hound x Miniature Schnauzer
Chizer – Miniature Schnauzer x Chihuahua
King Schnauzer  – Cavalier King Charles Spaniel x Miniature Schnauzer
Mini Ratzer – Miniature Schnauzer x Rat Terrier
Miniature Schnoxie  – Miniature Schnauzer x Dachshund
Pom-A-Nauze  – Miniature Schnauzer x Pomeranian
Schneagle  – Miniature Schnauzer x Beagle
Schnekingese – Miniature Schnauzer x Pekingese
Schnocker  – Cocker Spaniel x Miniature Schnauzer
Schnoodle  – Miniature Schnauzer x Poodle
Schpit  – Miniature Schnauzer x American Pit Bull Terrier
Shnug  – Pug x Miniature Schnauzer
Silkzer  – Silky Terrier x Miniature Schnauzer
Sniffon  – Brussels Griffon x Miniature Schnauzer
Snorkie  – Miniature Schnauzer x Yorkshire Terrier