Maintaining a Clean and Neat Home with New Puppies
June 21, 2019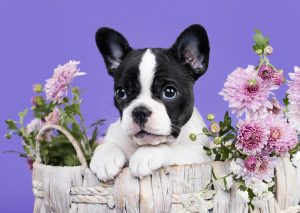 There's no doubt about it that we go crazy over our pets and will go above and beyond to love and protect them. We also know that those little buggers can wreak havoc on our homes if we don't control them. Frenchie puppies are droolers and they leave their wet loving marks around the house sometimes. Whether you're a new pet owner or a seasoned one, you'll find our suggestions helpful, hopefully!
Keep your carpets clean.
One of the best ways to keep your house clean is to vacuum regularly, this includes your furniture and carpet. Frenchie pups are moderate shedders so this is something you'll definitely want to monitor daily. The very best way that you can stay on top of their hair and any messy accidents is to vacuum. We suggest that you purchase one that is powerful and made specifically for pet hair removal. You'll benefit tremendously. There are tons of pet-friendly carpet deodorizers that will be beneficial for your home, as well.
Dander – be gone!
Do you want to keep your home from smelling like a kennel? One way that you can achieve this is by grooming your pets on a regular basis. As we mentioned, Frenchie pups are moderate shedders so that means they release some dander and they can smell. Using wet doggy wipes between professional grooming is most advantageous.  This can keep that unwanted dog smells from permeating your house through their dander. We also suggest that you keep their bedding cleaned often. When you're doing your weekly laundry, pop their beds and blankets in there as well! Of course, we suggest pet-friendly detergents.
Say no to hair!
We've already covered (pun intended) Frenchie puppies hair on the carpet on furniture so we would be remiss if you neglected to address their hair that might make it on your clothing. That's a no-no…we know! Lint rollers are a lifesaver and they can be stored all around your house, including your vehicles.
We hope these tips were helpful to you. If you're ready to purchase one of our Frenchie puppies give us a call!