Let Us Give Thanks For… Puppies!: 5 Reasons We Are Thankful For Puppies
November 20, 2020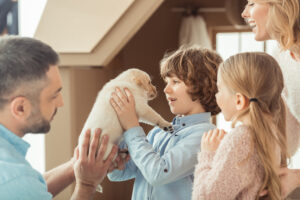 Thanksgiving is almost here! There is a nip in the air here in Aurora, Il, pumpkin spice everything is solidly in full season, and the ghosts and goblins have been put to rest for another year.
Without a doubt, this year has been a crazy adventure of the not-so-fun kind, but we are determined to celebrate the things that we are thankful for nonetheless. So, what tops the list of the things we are thankful for? 
Puppies! 
Seriously, who doesn't love puppies? While there are probably hundreds of reasons to be thankful for them, here are our top 5.
1. They Give the Best Hugs
There is a legit reason why interacting with a dog makes you feel good. Looking into your dog's eyes, petting, and hugging him all stimulate the production of oxytocin for both of you. This is the same hormone that we enjoy when touching and interacting with other humans, particularly with those whom we love. It has been dubbed "the love hormone" and you seriously can't get enough of it so get a puppy you can pet all day long. 
2. They Don't Judge
A dog will never stare down their nose at you or berate you for your shortcomings (as long as that shortcoming isn't an empty dog food bowl). What they will do is curl up by your side when you're having a bad day or crawl into your lap and do their best to show you that everything will be okay. 
3. They Help You Exercise
You've been shut-in for a long time in your Rockford, Il home (perhaps anxiously watching your expanding waistline) and the holidays are coming. Not a good combination! 
However, one of the big benefits of a puppy is that they have tons of energy and will obligate you (in a good way, of course) to get up and get some exercise. 
4. They Teach Us About Unconditional Love
We humans sometimes have a hard time letting things go when someone else has wronged us. Dogs will always love their owners no matter what happens. You can forget to feed them, leave them shut-in the house all day, or punish them for peeing on the rug — it doesn't matter. They will always greet you with excitement and love, seeming to completely forget a bad moment. (Although always shower your puppy with love, there's no reason not to!)
5. They Make Us Feel Safe
No one can ever sneak up on you when you have a dog in your house. Even the tiniest of pooches will sound the alarm as soon as anyone nears. 
Ready to See Some Puppies?
There are so many reasons to be thankful for puppies that we could go on all day. We'll stop there for now but if you love puppies and have been asking yourself "should I get a puppy?" now is the perfect time.
Come check out the best puppies in our stores in Joliet, IL, Lombard, IL, Rockford, IL, and Aurora, IL and get ready to start being thankful for your new puppy today!