July Is National Picnic Month
July 1, 2020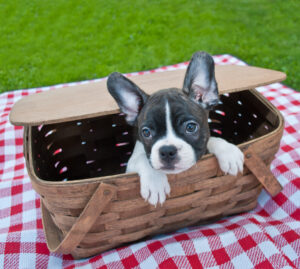 There is nothing more fun than going out to a picnic with friends, family, and, of course, Fido. Here are 8 tips to have a fun, safe outing with your furry babies. 
Pick a spot.
Be sure your picnic destination is dog friendly and doesn't pose any danger to your pooch. While a dog park may seem like a good location, an off-leash park might not be your best bet. The smells wafting from your basket may get too much attention. 
Exercise first.
Taking Fido for a walk or throwing his ball once you arrive will help get rid of some excess energy and help him get comfortable with the location. He will be better behaved, and you'll both be able to relax and enjoy your picnic. 
Secure some shade.
Find an area that provides ample. If there is not much shade at your location, bring a beach umbrella or a small tent.  
Pack lots of water.
Don't count on your picnic area having water available. Always be sure to have plenty of water and a bowl on hand. If it's really hot, you might even add some ice cubes from your cooler to her water dish. Here are some tips from PetMD to make sure that your dog can safely enjoy ice.
Bring his usual food along.
It's fine to share your food as long as it is dog-friendly, but too many table foods and treats can upset your pup's stomach. Be sure to bring along his usual food for his main course.
Bring plenty of treats.
Delicious food and treats are mandatory for any picnic. Bring a variety of healthy treats to make sure your furry friend is included in the fun. You might try making some of these delicious Summer treats in advance and adding them to your cooler.
Keep your pup tethered and ensure his ID tags are up to date.
Even if a leash is not required at your picnic spot, it will help prevent your best buddy from wandering off and getting lost. But make sure their ID tags are up to date just in case. It's also a good idea to have a recent photo handy to help find him if he loses his way
Bring along a blanket or his dog bed.
Playing with you and your friends will provide tons of excitement for your dog, which can be exhausting. A familiar blanket or dog bed placed under a shady tree, beach umbrella, or small tent makes a perfect napping area for him.