How to Make a Career Centered Around Your Dog
September 8, 2021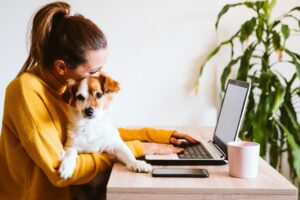 It's no secret that in recent years young adults have gravitated towards getting a furry friend before starting a family. Last year, with the surge of pandemic pooches, that continued to be true. So, how do you rise to stardom by posting pics of your pup? After all, they are the cutest in the entire world, right?
Here are some tips if you are considering launching a side-hustle or full-on career with help from your fur baby.
Assess Your Interests
Like any fulfilling career, it will likely stem from something you already enjoy. Do you cook every day? Maybe starting a food blog with drool-worthy recipes for dogs would be your niche. A lot of hustle may be required at the start so it's important that you like what you do.
Address a Need
It definitely takes some out of the box thinking but if you think every dog product under the sun has been made, think again. Many entrepreneurs of big brands (like Farmer's Dog or Stella & Chewy's) started from a lack of what they wanted for their own dogs in the industry.  Owners of WestPaw couldn't find toys that were eco-conscious and entertained their dogs long enough all while staying sturdy, so they designed their own.
Start Small
Getting "known" in your local community can go a lot farther than you might think. You probably already engage in dog-friendly activities on the daily and those are great opportunities to let people know your dog is on social media. From receiving report cards at doggy daycare to learning about their favorite and least favorite foods, you never know what people will find hilarious and endearing about your pup. Plus, lots of accounts have risen to fame while traveling with their pet – after first bopping around their hometowns!
Harness Your Social Media Skills
Global reach has never been easier but breaking into the social media world clearly isn't always easy. Instagram has recently shifted to rebrand as an entertainment-focused app. This means that uploading short videos to "Reels" can be super helpful to prompt the algorithm to share your content on others' discover pages.
Don't Count Yourself Out
The amount of Instagram accounts that allow for a peek into the lives of some fabulous K-9s lives is amazing, but don't think because there are a lot out there that there isn't a need for more. Many YouTube stars cited they thought they were 'too late' to start producing content when they joined the platform and may have gone on to be wildly successful.
Howdy Pawtner
Partnering with dog-centric brands can also be a huge plus because it can lead to a mutually beneficial relationship: your pup promotes their products, and they post about your page to an audience that you know is already interested in what you are producing. Collaborating with other growing social media dog accounts can be helpful as well.
Cuteness Goes a Long Way
The dog-loving community is pretty accepting of new fuzzy faces. Chances are if you think your pup is the cutest ever, other people will too. Sometimes consistent content is what the people want to see and that just takes time and dedication.
Closing Rebarks
If spearheading your own business sounds too extreme, you can always look for flexible work spaces that allow dogs. Many co-op offices that have outdoor areas will allow you to bring your dog – just call and ask! It can be a happy medium where your dog may not run the show, but can pop into a daily Zoom call or two.