Holiday Pets | What To Give & Gift
December 16, 2019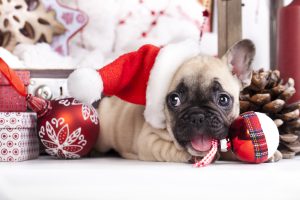 Is there a more adorable gift than a sweet puppy waiting under the tree to surprise their human on Christmas morning? While this sounds like a truly unforgettable gift but it's important to keep in mind that puppies are a significant commitment. If you're planning to gift someone with a pet this holiday season, here are a few things to keep in mind. 
Don't surprise the recipient
While telling someone that you'd like to give them a dog or cat isn't as exciting as a surprise gift, it ensures that the pet is actually wanted and can be taken care of. Talking it over with your loved one also gives them the opportunity to tell you what they are looking for in a furry companion. This takes the guesswork out of the gift, reducing the chances of an uncomfortable situation for the recipient, you, and, of course, the puppy. 
Only give pets to the immediate family
According to Atlanta veterinarian Dr. Jean Sonnenfield, getting a pet "…is like having a child. There are a lot of financial, emotional, and time concerns." So even if a friend or relative outside of your immediate family expresses interest in a pet, they may not actually be ready for one but feel like they can't say no to the gift.  
By limiting the gift to immediate family, such as your husband, wife, or child, and making the pet adoption process a family affair, you can ensure that everyone is prepared and happy to welcome this new member of the family. 
Cover initial costs
We've already mentioned it a couple of times, but it bears repeating. Pet ownership comes with a lot of costs. When giving someone a pet, help them start their journey of pet parenthood by helping with the initial costs. Paying the adoption fee is a must. Also, consider covering their first vaccinations and giving the recipient a bag of food or treats for their new puppy.
Don't Adopt on Impulse
As pointed out in this WebMD article, if you're going to the market for some milk and see someone giving away cute puppies and kittens, avoid taking one. By choosing a pet on impulse, the recipient doesn't have an opportunity to choose a pet based on temperament, size, or other important factors. 
Gift Alternatives
There are plenty of pet-related gift options that you can give to help people celebrate a new furry addition to their family. 
Puppy/Kitten Starter Kit

: Help your friend or loved welcome their new furry baby with a starter kit that can include: 

Pet bed

Treats

Toys

Food and water bowls 

A pet parenting book

Gift Certificate to a Local Animal Shelter

: Support your friend or family member's decision to get a pet, while also letting them choose the best dog or cat for their home. 

Donation to an Animal Rescue

: If your loved one has decided now is not the best time to add to their family, you can still support their passion for pets by making a donation to a local rescue on their behalf. 
Bringing home a new puppy or kitten is a truly heartwarming moment, just make sure that it's the right time for ownership.