Gracious Great Danes
October 8, 2018
There's absolutely no doubt that when you think about large dogs, like the ones that are beyond the average large sized dogs, you think about Great Danes!
They are exactly what comes to mind. Besides their massive body types, they are somewhat mysterious and not a lot is commonly known about them. We're going to change all of that right now because there's so much more than meets the eye with these big but elegant beauties. Read on to learn more about Great Dane puppies for sale!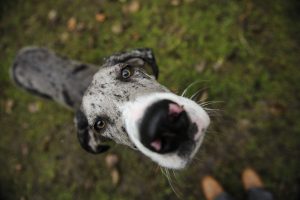 Large and In Charge
Sure, they're huge dogs, but just how large do they get? Well, males can reach 32 inches in height and weigh anywhere from 100 to 120 pounds. Females are a little shorter, reaching 30 inches in height, but still weighs about the same as males. Genes aren't the only factor facilitating their large sizes. Food is the other! They eat considerably more than most dogs. Prepare your pockets for their appetite, because it's a costly one!
Pleasant Personality
Great Dane puppies for sale grow up to be gentle giants. You can live with peace of mind knowing that these dogs are safe to be around children of all ages. Great Danes are notoriously known to be sweet and kind to kids, while still managing to protect their home and other family members. Unfortunately, Great Danes have short lifespans that range from 6 to 8 years. However, they are a pleasant, playful, and affectionate additions to your home life.
Sharing Your Home
Great Dane puppies for sale should be trained early in their lives. Don't worry; they are said to be rather easy to train, even with their occasional stubborn streaks! Keep the training going even into adulthood with Great Danes. They will need obedience training to keep their behavior manageable.
We think the word "great" is very fitting for Great Danes because there's nothing average about them. If you're going to take home one of our Great Dane puppies for sale, make sure that you have the space for them. You must be willing and able to accommodate this dog's great size! They will require the physical space to stretch out, and we've already mentioned that they can be quite playful. They are completely unaware of their large size, so again we recommend that you have both indoor and outdoor space to house them properly. Be prepared to take them for LONG daily walks. They will require it!
Origin
Great Dane puppies are part of the giant breed! This is a common fact. What's least known is that, despite the implications in their names, they do not have a Danish origin. They are actually German and have been around for more than 400 years. They descend from mastiff-like dogs and were bred for protection. (That's no surprise!) They held jobs as prestigious guardians of various estates and carriages. With the upper class, they were popular for sports involving taking down a wild boar. Nowadays, they are simply family and household pets.
At Furry Babies, we are proud to have Great Dane puppies for sale and encourage you to contact us today with any questions you may have. We are here to answer them all!