Furry Babies' Got Love for Frenchies
March 15, 2019
Today's post is going to feature our French Bulldog puppies, because…why not?!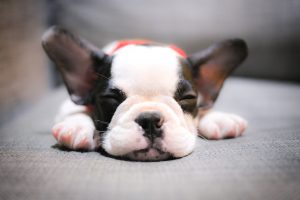 They rank highly as a preferred pet companion providing years of entertainment, love, and memories for families across the world. What makes them so darn lovable and unique? You already know we're going to tell you so continue reading to learn!
One-of-a-Kind
French Bulldog puppies for sale are searched and sought after frequently and that's why we try to always have French Bulldog puppies for sale in at least one of our locations! They have a really unique appeal that makes them so attractive to so many people. Do you think their big, bat-like ears and large soulful eyes have anything to do with it? You're darn right it does! We know that beauty is in the eye of the beholder and not everyone is going to go for their unique physical features but we truly go "batty" over them. Hey, we may disagree on their looks, but we can all agree that their general dispositions make French Bulldog puppies for sale one of the best companion pups the world over!
Strong but Sturdy Bodies
Frenchies may be small but they are far from fragile. Even our little French Bulldog puppies for sale have a powerful build. They are muscular and can be handled by the not-so-gentle hands of little kids. They can sustain their rough play! In terms of their grooming, you'll find that they are a breeze. They are sporty and dapper and come across as clean-cut if that's possible for dogs!
Personable Pups
They are playful and personable and that's the truth! French Bulldog puppies are also very easy to train. They're intelligent dogs and they will follow your lead, with treats of course! They are truly the perfect combinations gentleness and protectiveness. They balance playing with resting very well (most dogs achieve this great feat)! They balance their independence by providing companionship, too. You'll find these pups are purely pleasant and full of joy.
At Furry Babies, we know how popular French Bulldog puppies for sale are coveted and thankfully we've got the inside track to helping future pet parents reach their goals of adding one of these beauties to homes.