Furry Babies Talks About "Paw-some" Dog Breeds for Families!
December 27, 2017
Are you searching for puppies for sale in Chicago, but want to know which dog breeds for families would be best?
There are literally so many dog breeds out there! From small breed to large breed, active to lazy, shedding to non-shedding, the list is seemingly endless and it's enough to make your head spin! And on top of trying to narrow down the list, you also have to see those puppies in person to figure out which personality fits your family best? Who has the time? But that's where Furry Babies comes in, our locations have a wide variety of baby puppies for sale in Illinois for you to come and cuddle with all in one place. We're also very knowledgeable in making sure you get the right puppy for you, no matter what! Want to see what precious puppies for sale we've got right now, take a sneak peek at our available puppies page!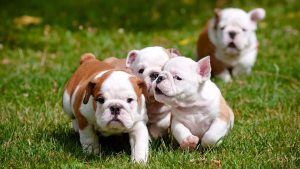 Golden Retrievers
I mean, the Golden Retriever is iconic as a pet! With that feather-soft fur, those big dark eyes and loving nature, there are few breeds on Earth as wonderful as the Golden. Trustworthy and loyal to a fault, this large breed trains well, does great with children big and small, and makes a great workout partner! Not to mention they get along great with other pets in the household. However, they need an active family, willing to keep up with the Golden's working past and exercise requirements. Golden Retriever puppies can also get up to 65-75lbs, so you have to make sure you can handle this extra-large pupper!
Pugs
Not willing or able to have a large breed pup in the house? No problem! Pugs are known for their playful, loving dispositions and make great playmates for rowdy or rambunctious children. Even as a small breed, at an average of 20lbs, they have a lot of heft and their barrel-like bodies can take some tough loving and keep on going. The only thing you have to watch for with Pugs are extreme temperatures. Because of their flat faces, they can't handle too hot or too cold weather. So if you're all in for a camping buddy, the Pug might be out!
Boxers
The Boxer is often an underrated family breed and we can't figure out why! Many people flock to Labs, Goldens and German Shepherds (and, honestly, with good reason), but the Boxer has many of the great qualities in all three of those breeds! Great with children, very affectionate and protection abilities are just some of the reasons why families opt for the Boxer. Others include their fun-loving, almost clown-like nature and their ability to be calm in the house, while boisterous and high-energy outside. Boxers are often the best of both worlds, having a furry partner to binge watch shows with or a jogging buddy to work off those couch snacks!