Fun Howl-o-ween Toys for You and Your Dog
October 1, 2019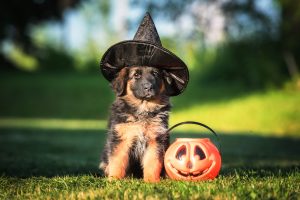 Whether you're expecting some four-legged trick or treaters, planning to give Halloween gifts to other pet parents or making sure that your own furry babies get a fun treat, these DIY pet projects are a great way to get your dog involved in the season of spookiness. 
Crinkle Water Bottle Toy
Take an empty water bottle, remove the cap, label and plastic ring around the top of the bottle. Then, place the water bottle inside of a sock–bonus points for a Halloween-themed sock. Secure each end of the sock with a knot, leaving enough material to cut into strips to add to the chewing fun. That's it—this toy is ready for your pal to enjoy. Want to make this toy even more appealing? Rover.com suggests adding a little dry kibble to the bottle. 
Boo Kit Bundle
Get your good boy (or girl) in on the Halloween fun with a DIY Halloween gift basket–better known as a boo kit! Pack your boo kit with delicious treats, toys and, of course, a card to let the recipient know they've been boo'ed! 
Best of all, there's no need to spend tons of money on a boo basket. From treats (check out our recipe picks for pumpkin-flavored dog treats) to toys and even the basket itself, this kit can truly be handmade. Katherine, the blog author of Lily the Wandering Gypsy, offers ideas, inspiration, and instructions for creating a boo-tiful gift.      
Squeaky Witch Toy
Make one or a whole coven of squeaky witches for your best pal to play with this Halloween–and year-round! To make these adorable toys, you just need scissors, stuffing, squeakers, basic sewing supplies, and your favorite fabrics to customize the witch's look. Get the instructions and create the perfect Halloween toy for a bewitchingly good time.         
How do you enjoy Halloween with your pet? Share with your friends and find out what they think.