Five Ways for You to Bond With Your Puppy
January 5, 2019
Getting a new dog is certainly a fun and exciting time but it can also be a bit overwhelming.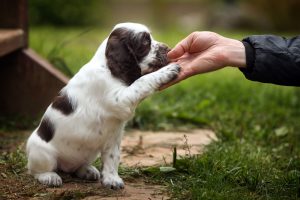 There are many factors that come into play when you're getting acclimated to having a pet in the home. Many of our breeds of American puppies have made happy and healthy pet companions because of a strong bond created with the owner. Is this your situation? Can you relate? If not, here are five ways to create an everlasting bond with your dog.
Be Patient With Your New Dog
When it comes to bonding with your dog, one of the most important aspects to consider is patience. To bond with your dog, you have to understand that it will always happen immediately and that's okay. It can take some time and you'll need to be patient during this introductory phase.
Be Consist With a Schedule
Dogs thrive the most when they have routines implemented in their daily lives. It's important that you create a routine and stick to it. Here are examples of what we mean:
Feed your dog at the same times every single day

Take your dog outside for potty breaks at the same times

Take your pup for daily walks at the same times

Go to bed every day around the same time each evening
Be Consistent With Rules
We can't emphasize consistency enough when it relates to raising American puppies or any puppies for that matter. Dogs thrive the most from consistency and routine. So to bond with your dog, you will need to always be consistent with rules. It's very important that everyone in your household follows the same rules, otherwise, it will be confusing for your pups.
Chill Together
This is an easy one and you simply can't go wrong with this tip. Spend some time chilling and relaxing together. Quality time in any relationship is important and the same goes for you and your dog. Grab your pup and chill on the couch or maybe give your pup a doggy massage. As we said, you can't go wrong!
Exercise and Play With Your Dog
Did you know that playing with your American puppies is also a form of bonding with your dog? Exercising your dog is also a form of bonding and we recommend both. Physical and mental stimulation is important for your dog and for you too so don't hesitate to jump right in and play around with your pup!