Five of The Silliest Puppies You Could Own
November 9, 2018
There are some dogs that are really laid back and are in chill mode most of the time.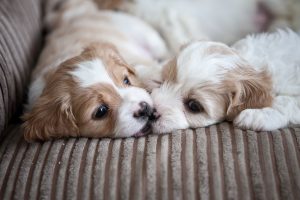 Then there are dogs like Cavachon puppies for sale that are little comedians. With their sassy personalities and funny ways, they keep people laughing at their antics. Here's a list of five of the silliest dog breeds!
Crazy Cavachons 
If you're looking for a goofy and jolly dog, then do yourself a favor and purchase one of our Cavachon puppies for sale! These bad little boogers are known to stay in the puppyhood phase of life a little longer than normal! They're such silly dogs who just love to be the center of attention.
Showtime with Corgis
Pembroke Welsh Corgis are beauties. These puppies are one-of-a-kind. With their fox-like faces, they entertain people simply with one glance. Give them the opportunity to show off and they will! These are energetic and playful puppies that are the perfect fit for families with children. Despite their little legs, they can run pretty fast. They will give your kids hours of entertaining fun.
Silly Siberian Huskies
There is a famous Siberian Husky who has a huge social media presence because of its face. The owner takes pictures of the dog and posts funny commentary. The Siberian Husky is a hit! It is an active and fun-loving dog that enjoys spending time with its family. They know how to entertain themselves and the rest of their family.
Pleasant Pugs
The Pug's looks alone are enough to make one laugh and smile! Much like our Cavachon puppies for sale, they stay in the puppyhood stage of life for a long time too! They are known to be goofballs and their owners get joy in watching them run and romp about aimlessly.
Loving Labrador Retrievers
One of the most popular dogs in the world is the Labrador Retriever. Everyone knows them to be even-tempered and the perfect family pet. Did you know they're as loving and they are funny? They are constantly coming up with new silly antics keeping a smile on their family's faces!
We hope this blog post was entertaining and shed light on silly and kind-hearted dogs. We've got all the puppies for sale that are ready to make you smile and laugh! Contact Furry Babies today for more information!