Five Disaster Preparation for Pups
December 20, 2018
Lately and unfortunately, there have been quite a few natural disasters that cause families to evacuate and flee their homes.
Whether it's a wildfire or a hurricane, it seems no one is safe from mother nature's wrath. During these times, we want to make sure that you're not only safe but also that your furry family members are. Much like the pre-packed overnight bags that expecting mothers have ready for labor, we are suggesting the same for your teddy bear puppies. Here are five things that should be packed should you and your family be faced with a required evacuation.
Emergency Contact Cards
If you live in an area that is typically affected or is simply expected to be affected by a natural disaster, then you likely follow the news. Prepare a list of emergency contact information for your teddy puppies. Check the surrounding areas before disaster strikes for a list of emergency animal centers and pet-friendly accommodations outside your geographic area. The emergency cards should be plastic and small enough to fit in a wallet or back pocket and should contain the following:
Your pet's personal information (like name, age, breed)

Your vet's name and contact number

An animal poison control and emergency animal hospital name and number

Your name and contact information

A close family member's name and contact information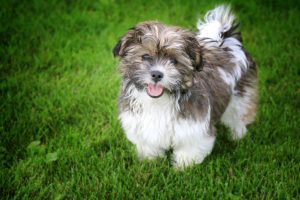 Nighttime Safety Wear
If you are required to evacuate when it's dark, it is going to be very important that cars and rescue workers are able to spot your pup. Have reflective accessories handy, bandanas, LED collar covers and LED safety tags. These are actually good to have on a daily basis, but definitely essential during a disaster.
First Aid Kit
This will include things like medical tape, antiseptic wipes, gauze, ointment, and latex gloves. All of these items will help to tend to minor injuries that may occur during the evacuation. If any of your teddy bear puppies are on medication, they should be in this box, or at the very least a list of the names of the prescriptions.
Toys, Chews, and Other Essentials
Should you have to evacuate, your pups will need items to keep them occupied during the stress of travel. Instead of rushing around trying to collect their favorite toys, have some toys, even if they're new and unused, already packed for them. They will certainly play with new toys and they will need the stimulation. It is also a good idea to have a small blanket packed in the bag.
Travel Bowl
The hard ceramic or stainless steel bowls that you have at home to feed your teddy bear puppies will be too clunky to pack. Instead, pick up some travel bowls that are foldable and water resistant. You'll also need a water bottle so keep one in their bag, as well.
At Furry Babies, we hope that none of our customers or loyal readers are affected, however, we also want to assist in your emergency preparedness.