Festive Recipes for Delicious Doggie Treats
December 22, 2021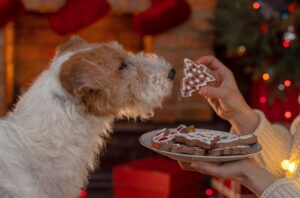 Ever wanted to make your dog a tin of treats all their own?
The Grinch
Baked Treat
We heard this batch of canine cookies is approved by Max himself. It's easy and right on theme, so we can see why!
Ingredients:
2 cups washed spinach

½ cup mashed banana

1 cup unsweetened applesauce

1 tablespoon honey

1 egg yolk

2 cups oat flour

2 cups all-purpose flour

(optional) 3-4 drops green food coloring
Instructions:
Combine all ingredients in a blender. Using a holiday cookie tin, make some cute shaped cookies by pouring into a tin or silicone mold and making at 350 for 30 minutes (cookies will be crisp, not soft-baked).
Green Bean Casserole
Meal Topper/Treat
The unsung hero of the dinner table is back – in your dog's bowl. Give them something to dig into (get it?) with loads of fiber and vitamins A, C, K, B-12, B-9 and Folate.
Ingredients:
1 cup fresh or frozen green beans, chopped (if frozen, thaw by covering in water and microwaving for ~2 minutes)

½ cup chicken bone broth

1 tablespoon diced mushrooms

1 freeze-dried chicken tender
Instructions:
Reserve chicken tender, combine all other ingredients in a bowl and microwave for 1 minute. Pour atop kibble or directly into dog bowl and top with chicken tender treat.
Mini Piggy Pies
Baked Treat
Special utensils: mini muffin tin
Ingredients:
1 cup cooked and diced ham

5 eggs

1 small cooked sweet potato (peeled and chopped  – alternatively, you can use cooked carrots)

1 handful of spinach

Nonstick spray or mini muffin tin liners
Instructions:
Crack the eggs into a bowl and discard the shells (or you can rinse and pat them dry if you'd like to add them to your dog's dinner), add the other ingredients and mix thoroughly. Spray or line muffin tin. Pour batter into muffin tin and place in preheated oven at 350 for 15-20 minutes. Give to your dog with dinner or as a treat after they are completely cooled. Store in the refrigerator for 1 week. (Also, we know this isn't really a pie and it's more of a quiche but puff pastry doesn't always sit well with pups so best to leave it out!)
The Kitchen Sink
Meal Topper/Treat
The one place everyone avoids around this joyous time of year – the sink. How is it even possible that the load of dishes never gets any smaller?! This hearty mixture takes a little bit of all your pup's favorite festive flavors and rolls them into a mouth-watering scoop of goodness.
 Ingredients:
1 cup steel-cut oats

½ cup pumpkin puree (

not

pumpkin pie filling)

½ a banana, smashed

1 cup turkey, shredded

¼ cup chopped green beans
Instructions:
Combine all ingredients in a large bowl. When ready to serve, take a tablespoon and scoop 2 tablespoons of the mixture into a microwave safe bowl and heat for 30 seconds. Then, place on top of hydrated kibble as a meal topper or alone in the dog bowl as a treat (can also be served cold for picky eaters – and stores in the fridge for a week).
Reindeer Food
Frozen Treat
Cold, just like the north pole, this frozen popsicle is guaranteed to make tails wag. It comes out as a light pink base with flecks of blue and green, you can decorate with edible glitter if desired.
Ingredients:
1 cup strawberries

½ cup blueberries

½ cup raspberries

5 Mint leaves

1 cup Coconut milk
Instructions:
Combine all ingredients in a blender and pour into freezer-safe mold. Place in freezer. Serve as a frosty treat for your pup after about 4 hours!
Happy Howlidays everyone!