Why Everyone Has Fallen in Love with Our Yorkie Puppies for Sale!
November 30, 2017
If you're looking for a Yorkie puppies for sale, check us out! Furry Babies has the cutest Yorkie puppies!
The Yorkshire Terrier is certainly a tiny force of nature! The smallest breed in the terrier group, but no less tenacious, the Yorkie is a fiercely intelligent, extremely loyal companion. These qualities have made them a favorite for many years. Here at Furry Babies, we want to make sure you get the perfect Yorkie puppy for sale for your family. You can trust that you'll be getting not only a great looking puppy, but one that was raised in a wonderful environment with caring breeders. Can't wait to check out our precious Yorkie puppies for sale, just click here for our available puppies page!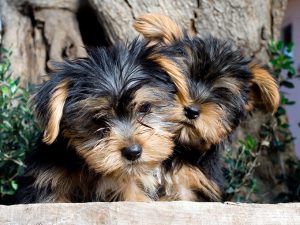 No matter what, always start off on the right foot
With toy breeds like the Yorkie, you have to be very careful balancing playtime and rest for the first several months. You will need to monitor the puppy's food intake to make sure they are gaining weight and keeping up with their energy levels, small puppies can become hypoglycemic, where their blood sugar can drop to a dangerous level. Getting a balanced nutrition and exercise routine down is the single most important thing you can do with your new puppy!
Don't forget about bathing and grooming!
Yorkies are well known for their fabulous coats, but it does take a bit of upkeep to keep them looking their best. Because they have haircoats as opposed to fur, the Yorkshire Terrier tends to shed less than your average dog, however their hair grows continuously and will need to be groomed regularly. And while occasionally you will be a Yorkie with their long, flowing breed cut, most families prefer to keep them in a much shorter cut, to keep the grooming requirements down.
There's so much more to know about the Yorkshire Terrier, so give us a call today if you think this might be the puppy for you!