Fall for These Pictures with Your Dog
August 31, 2020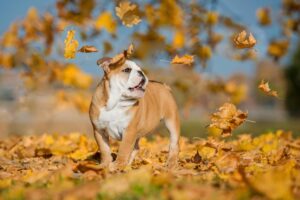 As temperatures begin to fall and leaves turn, people start planning their fall photos. Whether you're including your furry babies in the family photoshoot or have a solo session just for them, here are some tips to make sure your photos turn out picture-perfect. 
Why fall? 
Autumn is an ideal time for photos. Its traditional mild temperatures and warm, neutral tones create the perfect backdrop for outdoor photoshoots. Plus, fall foliage, pumpkin patches, and other seasonal settings are plentiful and easy to take advantage of. 
Practice, practice, practice. 
Basic obedience skills are necessary for beautiful fall photos. Brushing up on common commands like "sit" and "stay" will help reduce frustration on picture day for you and your pup. So, get those treats ready and start practicing today.
Pick the perfect spot.
Finding a great location to capture the best pictures of Fido involves more than a location. Make sure that the environment is calm and relaxing for your dog. For example, if your best girl is fearful around water, don't insist on photos near a lake or stream. Also, if you live in an area that can see snow in late fall months, like October and November, make sure that your dog doesn't get too cold and that her paws are protected during the photoshoot.
Set the mood. 
Just like with adults and children, make sure that your dog is comfortable before the photo session begins. For example, if your dog is happiest in the morning, try to schedule a morning shoot and take advantage of the beautiful natural light. Regardless of the time of day, make sure that your dog has eaten, isn't overly tired (but has had the opportunity to get some nervous energy out), and is generally calm. Don't forget to bring extra treats and rewards, along with water.     
Embrace imperfection. 
Oftentimes, the best photos are candids that capture your pup's personality in a single image. Don't obsess over perfection. Instead, try to capture your best buddy in the moment, whether that's jumping into a pile of leaves or lounging on his back in the warm autumn sun.