Essential Water Safety Tips for Your Pet
August 3, 2021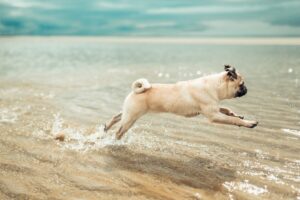 Sprinklers and kiddie pools, all the way up to the open ocean – there are so many fun summer activities to do that involve water. Tons of dogs love to take a dip and get their doggy paddle in the hot summer months. To be aware and prepared of some of the challenges that come along with letting your dog off-leash to swim, check out the list below.
Most Importantly – Can They Swim, and Do They Like the Water?
Before bringing your pup to the ocean or lake, double check that their breed is well-suited for the water. Breeds unfit to swim include: Bulldog, Pug, Dachshund, Pekingese, Basset Hound, and Boxers but there are more as well.
If its anatomy means your pooch can doggy paddle, then it's on to the next task! Ensuring that they are comfortable around and in water, with slow exposure and positive associations. If you have a yard, introducing your dog to a kiddie pool is a great way to familiarize them with the feeling of being in water and literally just get their feet wet before you can take them somewhere more public.
Suit Up! In a Lifejacket
Avoiding strong currents is always important no matter what body of water you are bringing your dog into. Even in calm waters swimming can get difficult for your pet or they could simply need the extra bit of help that comes with wearing a life-vest. Plus, the added safety that accompanies it is always helpful regardless of the level of need.
Avoid Water-borne Illnesses
Leptospirosis is an infectious disease that causes serious illness in many living things, including dogs, and people. The disease is caused by spiral-shaped bacteria called leptospires that live in water or warm, wet soil.
The best way to avoid its contraction is by preventing your pup from drinking the water they swim in by providing them with ample amounts of clean drinking water throughout your trip and making sure their vaccines are current. Drinking saltwater is also unadvised as it is dehydrating and can contain harmful algae.
Recall is Key
Allowing your dog off-leash in any public place means that their safety is extremely dependent on their ability to follow life-saving commands; this fact holds true in the ocean, pool, or lake as well. Make sure your dog's understanding of basic commands, especially their recall is on point before letting them loose.
Replenish Their System
Swimming, hiking, or even just excess amount of play mean your pup is burning more calories than normal. Always have water and a snack back at the car or campground for them to keep them in top shape.
Preparedness isn't always tons of fun but it is an integral part of a smooth and enjoyable outing and the summer is such a great time to get outdoors and explore. From catching some waves to doing cannonballs in the pool, there's no reason our dogs can't join in the fun!