Are You a First-Time Owner Looking for the Perfect Baby Puppy Breed?
November 24, 2017
Don't be worried when bringing home a new baby puppy! Furry Babies has you covered!
Even though new baby puppies are the sweetest things on God's green Earth, sometimes training can be quite the chore, especially if you haven't trained in awhile or maybe have never owned a dog. If you're in either of these categories, it might be worthwhile to look into breeds that are easy to train so you can get to the "paw-some" parts of pet ownership, like puppy snuggles and kisses. We've got a list of a couple of breeds we like to suggest for potential owners just like you, read along with us to see if any of these breeds might tickle your fancy!
The Precocious Poodle
Poodles are extremely intelligent, they actually are rated number two on the smart scale, right behind the Border Collie. The also come in three sizes, the standard Poodle which is a large breed at 45-55lbs and then the two smaller forms, the Miniature and Toy that typically stay anywhere from 5-15lbs. Great with kids and families, the Poodle has been a long standing companion for many years. They train very easily with positive reinforcement like lots of praise and treats!
The Glorious Golden Retriever
This one may seem like a no-brainer, with their ever increasing popularity for search and rescue applications and people with special needs and disabilities, but we would be remiss having this blog without the Golden Retriever! The Golden's easy-going attitude and eager to please personality make quite the dynamic duo when talking about trainability. We think Goldens make the best pick for first-time owners looking for a large breed companion.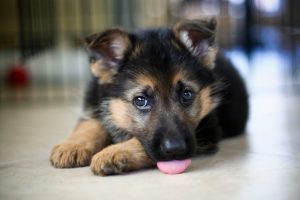 There are so many things about the German Shepherd that make them a great new addition! And while they're great for families, they have long been lauded for their adeptness in police work and rescue situations. The German is also a wonderful choice for those looking for a loyal protection breed. However, while the German will pick up commands scarily fast, they need a consistent, firm hand when training.
If you're still not seeing the perfect breed for you, fear not! Furry Babies can help you find the puppy of your dreams that can fit into your family with ease. With our 5 convenient locations, we can also make sure that you can pick up your new puppy as soon as you want! Check out our available puppies page to see pictures of all our puppies!