Dog Breeds as Sweet Treats – What Kind Do You Have?
May 12, 2022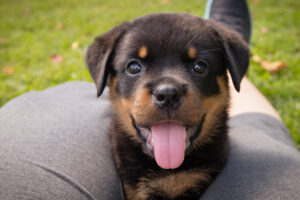 Find out what your breed of dog would be as a dessert and see a breakdown of all things delicious for your doggy!
Rottweiler – Sea Salt Caramel

Can look tough on the outside but are soft and so sweet inside.

Labrador Retriever – Reeses Cup
Yorkshire Terrier – Twizzlers

The people that opt for them, really, really love them (and they fit in most handbags).

Corgi – Taffy

Bright and cheerful – an overall delight.

Dachshund – Twix

The cookie burrows beneath rows of caramel just like these pups do under heaps of blankets. A unique choice but never fails to deliver and put a smile on your face.

German Shepherd – Snickers

A solid and sturdy choice.

Belgian Malinois – Sour Patch Kids

They can be sour but they're ultimately the sweetest thing around (as long as they work that big brain of theirs!).

Goldendoodle – Caramel Popcorn

They couldn't be sweeter and they're a blend of two things people love separately or together.

Doberman – Dark Chocolate

Reliable and intense, this dog breed resembles one of the best treats around.

Greyhound – Cheese board

This traditionally European after-dinner dessert resembles this quiet and regal breed. Somehow in a class all their own, and yet the most sophisticated of the bunch.

Bulldog – Milk Duds

There's just a clear correlation here.
If you're thinking "can dogs eat candy?" the answer is absolutely not. It can include artificial sweeteners that are toxic (like xanthan gum) or simply not be fit for their tummies. However, all jokes aside – food is a huge part of your dogs' life. Whether you feed kibble, freeze-dried, raw, or otherwise, there are a variety of options to spice up their lives!
Dried or fresh fruits, vegetables, kiefer, yogurt, applesauce, and even things like eggshells can benefit your pooch's diet and make dinnertime more interesting. Supplements for bone and joint health and oils for healthy skin, coats, and nails are handy, too.
Here are some handy toppers you can add to your furry best friend's next dinner:
Sweet Potato (cooked)
Broccoli (cooked or raw)
Carrots (cooked or raw)
Bananas
Berries
Green Beans
Peas
Salmon Skin
Smelt
Sardines
Applesauce
An egg or egg shell (if you opt for adding in a shell, be sure to rinse and bake it for 2 hours at 250 degrees F, this breaks down the calcium making it easier to digest and kills any harmful bacteria that may coat the outside)
Baby food (be sure to check the ingredient list for foods they can't consume)
Many of these items do double-duty as things you can squish into lick matts for their enjoyment as well! New food and experiences that involve smell and taste really light up your pup's world. It's a huge way they get to interact with items around them as well as the outside world. You can use what you have already on-hand and if ever in doubt if it's dog-safe just give it a Google or check out one of our other recipes! Happy snacking.