Different Kid-Friendly Dog Breeds
June 27, 2019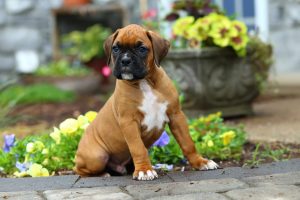 Dogs can be the best of friends to any child and that's why we want you to know about three of the top kid-friendly dogs that we have here at Furry Babies. Bichon Frise dog breeds are right up there on the list! The lifetime memories that are created with dogs and children can be amazing and guess what, they can also be a companion for your kids while you're taking care of things around the house! 'Tis true! Okay, let's get to it. Here are three dogs that are kid-friendly additions to your household.
Boxers
You've been forewarned. These dogs are considered to have a longer puppy life than most other dogs! They can be in the puppy stage for 3 years! This means they'll be providing lots of playtime with your little ones and provide lots of entertainment. They are devoted and extremely cheerful.
Akitas
Akita puppies are extremely loyal pets and we think they get a bad rep at times, simply because of their somewhat intimidating looks. Overall, they are loving, protective, and beautiful big creatures. They will be gentle with your kid and will cuddle with just about anyone!
Bichon Frise
We absolutely love our Bichon Frise dog breeds! While they're significantly smaller than the aforementioned dogs, they are still rather spunky and protective and cheerful little pups. Trust us when we say that they are the perfect pet companion for your kids, both young and old.
If you have been struggling to find some entertainment for your toddler or growing kid, please consider one of our Bichon Frise dog breeds, Boxers, or Akitas to join your family and make it complete! We'd also like to add that there are tons of other kid-friendly dogs that we didn't mention but certainly have in our store. Check out our available puppies page right now to see what we've got. Feel free to also give us a call with any of your questions and lastly, peruse our other blog posts! We're sure you'll have tons of information to get you started!