Dapper and Dainty: The Miniature Schnauzer
September 3, 2018
Are looking for miniature Schnauzer puppies for sale?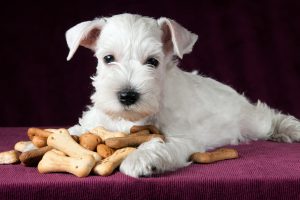 We implore you to press pause on whatever you're doing and take the time to read about this adorable breed. Here are 10 facts you'll want to know.
You will fall in love with their fur. It is sleek and very low maintenance. You need to groom it to keep its coat clean, shiny, and healthy.
Mini Schnauzer puppies for sale originated in Germany. They were developed from the standard Schnauzer to a smaller dog breed like the Affenpinscher or a Poodle.
They are so easy to train and will listen to commands intently. You don't need to repeat your instructions because they will follow your directions, happily.
Outdoorsman find them to be perfect little companions, because of their agility and level of activity. They are small but still a sturdy size.
Are you looking for a watchdog and a companion, wrapped up in one? Purchase one of our mini Schnauzer puppies for sale because they fit the bill! They will bark and alert their owners of intruders and strangers. Who cares about their size? They don't. They will protect their families.
Guess what. This breed can handle cold and warm climates so they can live almost anywhere in the world!
This breed is very friendly with children and other pets in the home.
They can live in an apartment or a large home, but they will require exercise to keep them in shape.
As we mentioned earlier, they are highly trainable so new and inexperienced dog owners can handle them.
Did we mention that they don't shed? Forget about allergies and lint brushes and deshedding tools, because you won't need any with our mini Schnauzer puppies for sale.
Mini Schnauzer puppies for sale sound awesome, right? We couldn't agree more, that's why we always have them in our store. If you'd love to have one, give us a call today or pop into our store.