Celebrating Easter with Your Dog
April 10, 2020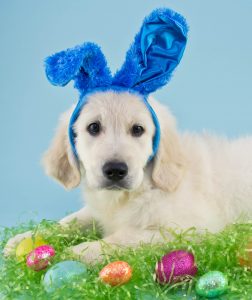 Easter is the perfect chance to get together with family for fellowship and some springtime fun. If you're like us, then you want to make sure that your furry babies are included in the celebration. 
Here are some tips for helping your dog safely enjoy and take part in all of the Easter festivities. 
Puppy-friendly Prize Eggs
Everyone loves an Easter egg hunt—including Fluffy! This favorite tradition was tailor-made for your inquisitive pup. To let your furry friend join the fun, stuff plastic eggs with small amounts of kibble and hide them in easy-to-access parts of the yard. 
When choosing eggs, look for those made of thin plastic or consider making small holes in the eggs to help your pup catch the scent of the treats better.
Build an Easter Basket
Your best buddy will love waking up to a gift basket from the Easter bunny. In addition to pup-approved treats (avoid chocolate and sweets containing xylitol like chewing gum and hard candy), fill Fido's basket with dog toys. Items with a fun Easter theme, like this burrow hide-and-seek toy, are a great way to make your dog's basket even more festive. 
When assembling your dog's Easter basket, avoid fake, decorative grass. Accidental ingestion could be harmful to your dog's digestive tract. 
Easter Treats
While chocolate bunnies are definitely off the menu for your dog, they can still enjoy Easter-inspired treats. Check out these recipe healthy ideas, like pup-safe carrot cake and Easter nests, that your four-legged friend is sure to love.  
Dress for the Occasion
Along with Easter baskets and egg hunts, clothes among this holiday's hallmarks. Pastels colors and classic seersucker fabric. Pet stores have tons of options from ties to bandanas, collars, dresses, and even fun rabbit ears to help you get your best girl or boy ready to celebrate. 
Looking for something a little more unique? How about an iconic Easter bonnet or hat for your dog. Find handmade options like this one on Etsy.              
Plan an Easter Photo Shoot
With your dog, all dolled up and dapper, a picture is definitely in order. Easter is the perfect photo opp with mild temperatures and spring blooms making it easy to find an outdoor spot to capture a few snaps. 
If a DIY photoshoot isn't your thing, many pet stores and other pet-friendly businesses offer pictures with the Easter bunny. 
No matter how you choose to celebrate Easter with your pup, take precautions to ensure that your dog's health and safety comes first.