Cavalier Puppies Just Might Be the Sweetest Breed You've Never Heard Of!
December 17, 2017
Our Cavalier Puppies for Sale Make Wonderful Companion Pets!
Well, it's almost Christmastime and that makes us think about curling up in front of a fire, drinking hot chocolate and snuggling with our favorite four-legged family members! And one breed that we consider perfect for this endeavor is the Cavalier King Charles Spaniel. Not many people are as familiar with the Cavalier as they are of others in the spaniel group, like the Cocker spaniel, but we think that's what makes this breed even more special! If we've got your curiosity peaked, then read along about one of our most popular toy breeds. And don't forget to check out our available puppies page for pictures of all our precious Cavalier puppies for sale!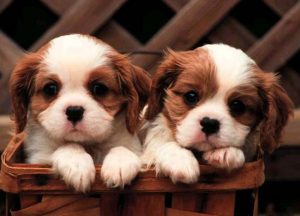 Let's get into the good stuff, shall we? Check out these fun facts about the Cavalier:
While the Cavalier is technically a spaniel, they actually belong to the toy group! They weigh in between 13-19lbs which makes them on of the largest in the group. But watch their treat intake, Cavaliers tend to pack on the pounds, so be careful of their big doe eyes begging for food!
Cavaliers are also a very docile breed, unlike the other spaniel working breeds. Just a couple of walks and play sessions daily will keep your Cavalier happy and healthy.
The Cavalier is extremely versatile as a dog breed. They are able to work well in smaller apartments or sprawling country farms. With minimal exercise requirements, the Cavalier can thrive almost anywhere!
Families all over laud the Cavalier as the ultimate companion, as they do well with small children, other pets and seniors. There's pretty much nowhere a Cavalier can't call home!
Grooming requirements are fairly small too, the Cavalier's long, flowing coat does not tangle easily and bathing is suggested no more that once weekly.
The Cavalier King Charles Spaniel comes in four distinct colors: Blenhiem (brown and white), Tri-color (black and white with brown highlights), Black and Tan and finally, Ruby (a deep red color).
Have you fallen in love with  the Cavalier as much as we have? We surely can see why! Don't hesitate to inquire about any of our locations Cavalier puppies for sale today!